Adding the perfect touch to a landscaping design can complete an entire project. Staying within the homeowner's budget can get limiting. Many people enjoy water features due to their tranquil nature and lavish look. Although, they don't typically want to deal with the maintenance and cost. Adding a pondless water feature can add revenue to your pocket and appease a home owner.
Not everyone has the time to maintain or the money to manage a pond or waterfall. Although, water features are still a very sought after outdoor design. The category of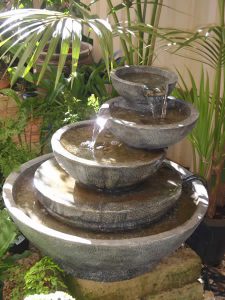 pondless water features has created a new market for affordable and easy to maintain water features. Once thought of as bird baths, pondless water features add the same tranquility to a space.
Not only do water features have a continuing flow of water, they also can double as a sculpture. Water features vary in size, height and look, so anyone can find one that suites them. Bringing the comfort of indoor living to an outdoor space is the objective of many renovation projects. Adding a water feature to a backyard oasis will complete a space. A space should be entertaining and relaxing. A water feature is a destination and people will want to experience it.
When selling or suggesting a pondless water feature to a home owner, create the experience. Everyone wants to own water front property, but most people don't. A water feature is a way for them to have that experience, without the major cost. Water features bring people together and complete a space. Adding a pondless water feature to homes is a great upsell for your business.