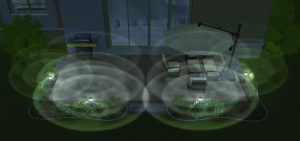 I spent an hour or two outside a few nights ago. The weather was perfect, but in the end, not worth the 10 mosquito bites that are now red across my arms and legs. It is the delima for many families in the area. It has been a rainy summer, turning many yards in to a mosquito nesting ground. Thankfully, Nutone Mosquito Fixtures are the easy and effective solution for getting rid of the bites that no one wants.

Nutone provides a simple and affordable answer. The Haven Mosquito Repellent Fixture attaches to a 12 volt wire to electronically discharge mosquito repellent. That's the same wire powering a lighting system.
Light and Protection
NuTone offers two options. The Haven Backyard Light & Mosquito Repellent Fixture combines an LED light with a mosquito repellent. The fixture provides protection within 15 minutes of use and covers a 110 square foot area. The repellent is odorless, silent and invisible.
In addition, the device is also offered without the lighting. The Haven Mosquito Repellent Fixture can be used to repel mosquitoes where lighting is not needed. The fixture can blend into any landscaping design. It offers the same capabilities as the dual light repellent.
The repellent is effective against all types of mosquitoes, including the Aedes aegypti mosquito, a known carrier of the Zika virus. For safety, the fixture opens with a screw driver to protect children and is also plant friendly.
Easy Operation
The fixtures are easy to operate. The HVDCT Timer/Controller can control both the light and repellent circuits of up to four fixtures. The light and repellent fixtures can be set on independent timers for automatic release and light operation. The system includes a back-up battery, Solar Sensor and mounting hardware. The back-up battery saves the program settings during a power outage.
Also, the replant is easy to replace. It is replenished as used. One filling will last about 90 days assuming the lighting system is used 2.4 hours per day.
Small But Mighty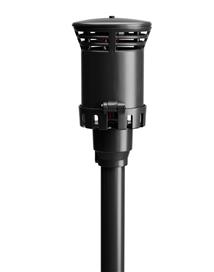 Paired with a 3-year warranty, these fixtures provide safety and convenience. The fixture can look like a small landscape path light. Stakes and an optional deck mount are included.  Simply install where convenient and needed to cover the sitting area. Less are needed than one would imagine, even for larger living spaces.
Because fixtures need refilled about every 90 days you will develop continual customers from this product. Developing that relationship with a homeowner will open up other job opportunities for that homeowner, come spring. Finally, their backyard oasis will be more comfortable and safe with the Nutone Haven Backyard Light & Mosquito Repellent Fixture.
Make this simple up sell for homeowners when you are installing lighting. Let homeowners enjoy their outdoor spaces without the fear of later itches.