Astroturf, fake grass, artificial turf, or synthetic turf, you may be thinking all that stuff is for football fields. Perhaps you may want to rethink your perceptions. Synthetic turf is a problem solver every landscaper will need sooner or later.
Why Use Synthetic Turf?
In the southwest States many homeowners and commercial properties have been replacing real turf with synthetic turf. In fact, governmental agencies are paying them to do so! All in the effort to reduce water consumption in their water challenged regions.
Here in the Midwest we do not face water shortages. We are not proposing replacing folk's front yards with synthetic turf. But, it is a tool to handle trouble spots in a landscape. Why would you consider synthetic turf?
Pet Areas: Pet owners are always fighting turf damage from dogs and other animals. They also hate their beloved animals making muddy footprints after being in the yard. Establishing "dog runs" with synthetic turf eliminates all that.
Difficult Turf Areas: Think about those areas where the look of turfgrass is desired, but it's really hard to keep turf alive and healthy. Maybe it's a heavily traveled area around a pool. Or the turf between spaced pavers in a walkway. How about those pesky hillsides or heavily shaded areas?
Another possibility is green roofs of islands in parking lots.
Playgrounds: Kids like the playgrounds in the backyard, but keeping them safe and good looking is hard. Synthetic turf can replace mulches and rubber beds with a much cleaner, better looking, and usually safer covering.
Game Areas: This can include volleyball, horseshoes, lawn bowling, and many other activities. Synthetic turf gives you the ability to make a very nice looking play area that will last and is easy to maintain.
The Synthetic Turf Solution
We supply the EasyTurf brand. American made by the largest synthetic turf company in the world. They have perfected artificial turf to the point they are the world's largest supplier for sport fields (more than 4,000). Now their quality and production knowledge is available for use in the landscape.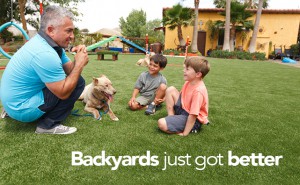 EasyTurf is used by Disney, Sea World, Hilton Hotels, 21 of 34 NFL stadiums, and many major airports worldwide. Currently tens of thousands of residential installations exist. Easy Turf has three main objectives for their turf;
Durability: Documented to be the best in the industry. EasyTurf researched and developed and manufactures all their own materials, the only manufacturer to do so.
Drainage: Again, documented to be the best in the industry. Important to avoid bacteria, mold/mildews, general slime, and premature wear.
Realism: Personal preference is also a factor. This turf is exceptionally natural looking and even includes dead grass blades!
The only artificial turf with independent 3rd party testing, EasyTurf has been documented as the most durable turf available. So trust us, it the best on the market.
Doing Synthetic Turf Installations
Each job is a special order. Consider it much like carpet. The shape and dimensions of the site must be known to figure how much turf to order. All rolls are 15' wide. Layout must consider the knap direction. We can help size your project. Typical delivery time is within 4 to 10 days. They are adding an eastern U.S. warehouse this year, which will make delivery in our region within days.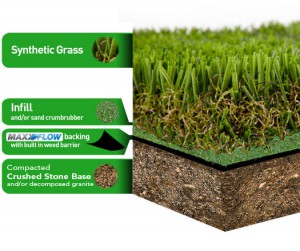 The base will be very similar to that for a paver stone patio. Compacted sand works very well.
The turf is rolled out, creases pulled flat, then "nailed" around the edges. Nails can be long galvanized nails, staples, etc.
A layer of silica sand in then spread and brushed. The sand is the secret for a good installation. It supports the turf strands, assists drainage, weighs down the turf, and protects the turf from damage.
Click here to see an installation video
Maintenance
Once a year, typically in spring it is recommended to re-brush the surface sand layer. Especially in spring brushing will stand the turf back up after the winter snows to freshen turf.
Cleaning is easy. EasyTurf has the best drainage factor of all synthetic turf products. Even animal waste will drain through. Otherwise cleaning is picking up what will not drain through or blowing off leaves and such. Then using a hose to wash the turf. Given basic maintenance, typical lifespans are 20 plus years. Comes with an 8 year warranty.
Contact your local Wolf Creek location for help and more information.