A generation ago golf was game for mostly upper middle income to wealthy white men. However, the face of golf continues to change, and that is a good omen for the game.
Junior Golfers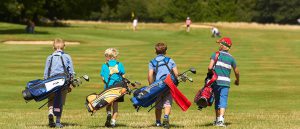 Junior golfers consist of ages 6 to 17. The population in this age group has remained stable. The golf industry has had some success in attracting kids. The big change here is the make-up of the junior population.
Young women now make up 33% of Junior golfers. They made up 17% in 1995 when the golf industry started with their early efforts to attract women into the game. The increased visibility of female golf tournaments and the star power of accomplished women golfers is said to be attracting more young girls to try the game. Overall 24% of golfers are female.
The other population segment the golf industry has been marketing to is non-Caucasians. Of Juniors, 27% are of race or ethnic background other than Caucasian. Tiger Woods burst the barrier back in the late 90's and since then golf has enjoyed an increasing number of non-Caucasian players. Especially the First Tee type programs are credited with being the primary vehicle that has added young minority players into the golfer ranks.
Young Adult
Young adult golfers consist of age 18 to 34 and make up the largest age segment with 6.2 million on-course and 3.1 million off-course participants. Interestingly, 29% of on-course golfers in this age group are female and 24% non-Caucasian.
Most new or beginning golfers are this age group. Another interesting fact is of all the new golfers in 2016, 34% are women and 32% are non-Caucasian!
Older Adults
Older adults are ages 35 and over in the golf world. Number aside, this important segment still accounts for a lot of play. The serious golfers are on the younger side. Unfortunately for the older participants, their segment is the group where health and mortality causes reduction of play.
A robust uptake of younger golfers, as always, is crucial for the game's long term well-being.