Water features are a great addition to any home. Not only are they just another service you can offer your client, they can also be money makers. There are a few things to consider when choosing a water feature for a homeowner.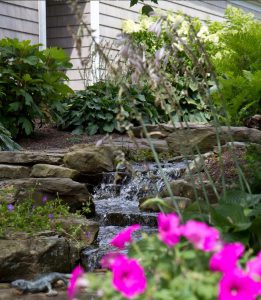 At the end of the day, you are going to create what the homeowner wants. Water features come in all shapes, sizes, and serve different capabilities. They add to the feel of a space and are easy conversation pieces. When choosing a water feature it is important to consider the following things:
Budget
Purpose
Space
Type
Design
Surroundings
Consider the Homeowner's Budget
When first starting the project you need to know what the client's budget is. You want to meet all their desires but do it in such a way that doesn't push their budget too far. In the long run a homeowner will respect you for this. Give them options, see what fits best with their budget and what they want. There is no harm in showing them a few options that might take them a few dollars over budget, but you don't want to be pushy. They may actually be willing to go over budget if they like the other option.
Give them an accurate quote that includes extra costs such as installation, electrical work, maintenance, plants, fish, protective covers, etc. Once you have a number, start shortlisting possible designs, materials, and options in water features. Big picture, work with what your client wants and give them the best they can have in their budget.
Consider the Purpose of the Water Feature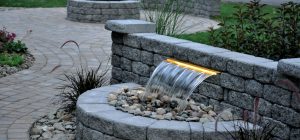 Talk with your client about what they want out of their water feature. Water features can serve many uses. Water features can be used to create the impression of more space, while the sound of moving water can help drown out traffic and noise. Water is a common additive for creating tranquility in a space.
Whether you're looking to add a space of relaxation and calm, extra interest and beauty, or create a tropical water plant area in your garden, be certain about the owner's purpose. This way you can match them up with the right type of water feature to achieve their goals.
Consider the Space You Have to Work With
Choosing a fountain too big or too small will make it seem out of place. Establish good placing for the fountain then determine an appropriate size. It may take drawing out designs to figure out an arrangement that works best. You want the feature to be functional and eye appealing.
Considering the space also involves the operational space around the feature. In some cases a homeowner may want an area for people to sit around the water feature. In that case you would want to plan enough room for people to sit and easily move around the feature.
Consider the Type of Water Feature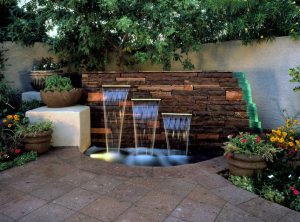 Considering the type of water feature goes in hand with the purpose of the feature. Water features can range from simple container-style and freestanding fountains to more complex water walls or large ponds, complete with fish. Knowing what the homeowners wants out of their feature will narrow down the options for you.
There are so many aspects to a water feature to think about. Each element will affect the flow and feel of a yard. Water features can be built above or in-ground and they can be still or moving. A moving water design will add extra interest to your garden or space. Some water features can be even be further enhanced with outside elements such as rocks, lighting, fish, and other decorations. The feel or theme of a feature can vary from rocky, Zen and minimalist, tropical and native naturalistic, among others. Often times, a water feature becomes the centerpiece. They act as focal points in areas such as courtyards and gardens and are a complementary element for the landscape.
Consider the Design of a Water Feature
Style, materials, and wiring are all elements of a water feature to consider. Style includes the colors, design, and overall look of the water feature can be matched to the design of the home, workplace, or any other space. Materials can be chosen from a wide range including cast stone, cast aluminum, and fiber stone. Wiring comes into play because moving water features need to have wiring and electricity.
Designs for water features are endless. You can choose from containers, fountains, pondless designs, and reflection pools. Container water features are economical and easy to install, providing you with many color and size options. Fountain-style water features can be traditional fountains, in-pond designs, or innovative options such as wall fountains, decorative faucets, or rock-based fountains.
For pondless designs, use boulders, rocks, bricks, stones, and other materials. This creates a water feature that does not have a central pond or water mass. These are easy to maintain and can introduce a strong aesthetic impact while being space efficient. For a cooling, calming touch to your space, install a reflection pool that uses a gently circulating, almost invisible pump rather than flowing water. Add water plants and fish for a tranquil, Asian-garden style water feature.
Consider the Surrounding Landscape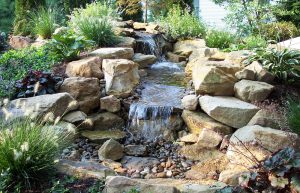 When considering the total landscape as a whole, balance is key. Be mindful of the surroundings when designing a space for a water feature. You don't want the feature to look out of place in its own space. Placement of the water feature can make or break the aesthetics. Depending on the functionality of the water feature, certain factor such as sunlight may be important. Look at the big picture and consider every detail.
Adding borders may help the water feature blend into its surroundings. Brick, plants and rock create great borders. Depending on what the homeowner wants, you can also add splashes of color and accent walls to make a feature stand out more. These elements create a good contrast.
Choosing the perfect water feature doesn't have to be hard. Commercial or residential, water features can add tranquility and beauty to the outdoor space. Given that options are available for all budgets and spaces, there's no reason not to add a water feature to turn a mundane space into a functional and aesthetically pleasing one.
Contact Wolf Creek Company with any questions about water features or lighting them!