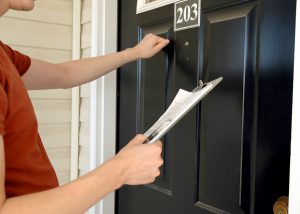 Customer service: the assistance and advice provided by a company to those people who buy or use its products or services. Too often brushed aside as unimportant, customer service is the very foundation of a successful business. Without it, customers will drop off for any reason from under appreciation to an unpleasant experience in the store.
No business is perfect, but taking care of your customers will lead to a business growth and loyal, long-term clients. Providing your customers with a full experience across all touch points will leave them happy and give your company a lasting impression.
What are touch points you ask? They are literally everything your customer will touch before, during and after their interactions with your company. From start to finish here is a quick run through of the touch points one customer may experience:
Go online and search for the service they are looking for
Example Search: "landscapers near me"
Do you have a website?
Does your google plus location appear?
How far down are you on their search page?
Goes on your website
Is your website updated?
Is it easy to navigate?
Do they find what they are looking for?
Is it easy for them to get in contact with you?
Example: live chat box, contact page, contact form
Schedules a consultation
Was the phone or email answered promptly?
Was their call or email responded to quickly?
Was the employee nice and helpful?
You go to their property
Were you on time?
Are you wearing company apparel?
How do you greet them?
How prepared are you?
Example: business cards, flyers, etc.
Do you have a pricing sheet and other materials with you?
Do you have visuals?
Example: pictures of other jobs, flyer explaining what they need done, etc.
You leave their property
Do you follow up with them?
Do you send a thank you note for contacting you?
How do you ensure that they choose you?
WOW, what a list right? Touch points also extend past this, but I think you get the point. Everything your customer thinks about and touches should be covered in your marketing plan. From the uniform, or lack of, your employees wear to how well your business is represented online, is important for the customer service your business provides.
I worked in the restaurant business throughout most of my youth and there was one thing that was constantly taught in each restaurant; anticipate the customer's needs. Anticipate that they will need a refill, more bread or ready to order dessert. Being one step in front of the customer will make them feel catered to and taken care of. It doesn't matter if you are selling a service or product, it is all the same.
You want them to feel taken care of and important before they even call you. Customer service is a dying art, but people will never stop wanting to feel important. You can easily make your company stand out by implementing a more strategic customer service strategy.