Irrigation is what keeps the course green and people coming to play. If an irrigation system is leaking or damaged it can be costly and cause miss-watering and later damage. But how can you tell if the irrigation system is damaged before it causes too much harm?
Sprinkler systems should water the grass or turf in a uniformed manner. If hand watering or hose watering is needed in spots, you know something is wrong. Some easily identified signs that your irrigation system may be corrupted are wet spots, dying lawn, dripping valves, water flow and a higher water bill.
Saturated or Not
Spots in the grass that appear to be wet or bogged down indicates a problem with the irrigation system or drainage. Grass blades will wilt and dead patches may occur. These are indicators that some parts are getting too much or not enough water. Excessive, constant moisture around plant roots kills root tissue. This leaves the grass unable to take up nutrients and water. Unable to exchange gasses, the grass becomes vulnerable to fungal invasions.
Yellowing or dry grass also indicates the inconsistency of the sprinkler's water distribution. Dry, brown areas of grass may be declining because they're not getting enough water as a result of reduced water pressure in that section of the irrigation system. These issues can be caused by anything from incorrect zone settings to faulty sprinkler heads.
Dripping Valves
Properly working valves should not leak or drip. Dirt and grass clippings accumulate in equipment causing leaks. Damp areas around pressure regulators and filters are signs of failures in the lines. Clean out equipment when able to avoid this malfunction.
Water Flow
Irregular water flow may be caused by a leak or clog. Turn on the irrigation system and watch how the water disperses. It is most likely

there is a leak or clog if the water pressure is lower in some areas or the sprinkler coverage does not overlap. There is a leak in the irrigation system if bubbling or gurgling occurs. Use a flag, stake or rock to mark the damaged area to come back to for repairs.
Inspecting parts when a leak is suspected is important. Any pipes or sprinkler heads that are exposed, are more prone to damage. Areas where cars and golf carts drive should be inspected first. Make sure the nozzles are not clogged or buried. By doing so, you can rule out any quick and cheap repairs that may be the cause. If no damage is seen, sections of the irrigation system may need to be dug up.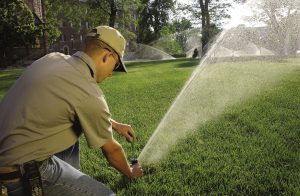 The pressure of the water can determine the flow of the sprinkler. Too little pressure doesn't deliver enough water to the area, too much pressure prematurely wears out the equipment. With wear the system the sprinkler may work ineffectively. Check for wear on the pipes.
Higher Cost
A higher monthly water bill may indicate a problem in the irrigation system. An increase in usage can indicate a leak letting water escape from the pipes. A bad pressure regulator forcing too much water through the system or an unbalanced control valve could also be the culprit.
The Identification
There are many indicators that a irrigation system is malfunctioning. Keeping a watchful eye you can catch the error before it causes damage to the course. If you catch a problem early, you are more likely to have a smaller repair than if the damage continued.