We have all encountered those yards that are a nightmare every time it rains. It is a waste of time for you because you show up to mow or work on a project and the ground is still flooded. So, what can you do to help your clients better manage their storm water so you can get back to work?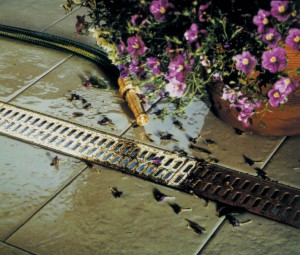 Although dealing with storm water may not be your typical service you provide, it is a good thing to offer for those clients with troublesome yards. You work hard installing irrigation and maintaining the turf and beds, so why not help homeowners maintain your work?
An obvious fix would be to install drainage. Although, not all homeowners will be jumping at the idea of tearing up their yard. Here are some quick ideas that will help your clients' yards and your wallet.
Redirect the Downspouts: Make sure downspouts are not emptying directing on the house. Run spouts further towards the street or a downhill area. You can redirect the drainage to water plants, lawn or into a rain barrel.
Clear Storm Drains: Keep storm drains clear of debris to help with drainage. This is a service you can offer in addition to mowing and leaf clean up.
Keep the Lawn at 3 inches: All Pros know not to mow a yard less than three inches. If this is a new client inform them about the importance of lawn height. Make sure to clean up any clippings and debris afterwards.
Clean the Driveway: Keeping a driveway clear of spills and debris will help drain a yard during a storm. Add this to your cleaning services you offer.
Install Drainage: The use of catch basins, french drains, a dry well or pavers are great options for flooded yards. Offering these services to a client can be very profitable.
Ask a WCC professional about your project's drainage needs. We can help you map out a plan to improve your client's yard.