We are a supplier of irrigation, lake management systems, drainage, & related supplies for golf courses, sport turf, parks, or anyone maintaining large tracks of turf. As a family owned business operating in Pennsylvania, Ohio, West Virginia, Kentucky, and surrounding states, we have been serving the Green Industry since 1961.
Our vision is to help improve quality of life where we all work, live, and play. Vibrant landscapes, sport turf, and golf courses make life more fun, attractive, and healthy. We believe our efforts benefit our customers, our communities, our staff, and our vendors. Building business relationship founded on trust helps the industry grow.
Making Golf Irrigation Work
We help you select and implement the right equipment and then keep it running at peak performance. Our goal is to help you get more done with less, to achieve better efficiencies, and to realize an acceptable return on your investments. Click here to learn more about the company.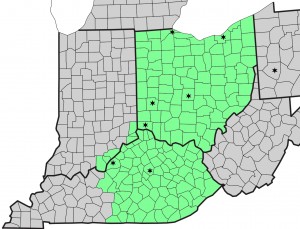 Located to Serve
We have eight warehouse locations in Cleveland, Toledo, Columbus, Dayton, Cincinnati, Louisville, Lexington, and Pittsburgh. Primary golf irrigation locations are Louisville, Dayton, and Cleveland.
Passionate Golf Irrigation Experts
You have access to a group of trusted, knowledgeable, and reliable experts. We all have field experience, so we understand the daily challenges you face.
In-The-Trenches Support
Sometimes you need help, we offer technical support and are always here to answer your questions. Our knowledge comes from years of field experience. We're big enough to provide the resources you need and small enough to offer a personal touch. We will get your issues handled.