We want to wish all our loyal customers a Happy Holidays and New Year. Our goal each year is to better ourselves. We want to provide outstanding service and products to each of our customers. We are here for you. We operate on the basics of the virtuous circle. 
Have you ever noticed Wolf Creek Company talks about the Wolf Pack? Well, if you haven't figured it out yet, the Wolf Pack is our team and yours! Let me break it down for you:
The Virtuous Circle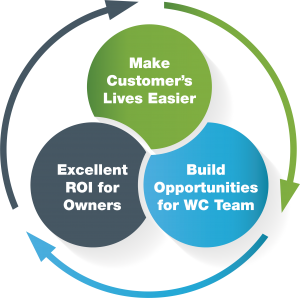 Customer's Goals
Long term relationships
Endless Curiosity
Calculated Risk
Education
Industry Strength
Goal number one is to make your life easier. We do that by becoming knowledgeable in the industry and passing on that knowledge to you. It transpires through online classes, hands-on training, on-site help, delivery, phone calls, emails, and smiling faces.
In addition to making your life easier is building long term relationships with you. If we know you, we can better serve you. It's simple, when we get to know you, your business, and your team, we can better anticipate and meet your needs.
So, how can we achieve this? Well, through endless curiosity. If we maintain a constant state of curiosity in this industry, we will always prosper. Curiosity in you, means we are hearing what you need and are figuring out how to meet that need. That's how inventions, revelations and knowledge develop and flourish.
Although without risk, how can we reach reward. By taking calculated risks in the innovations we make as a company we can help you. The better we do, the better you do. When we take the risk to sell a new product due to demand, we are serving you. When we do better we can offer you more rewards, lower prices and top-of-the-line products.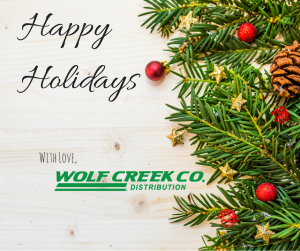 So we have the possibility of all these great things, but what's the point if you don't know anything about the products. That is why our education program is so important. In this industry, nothing stays the same. New controller, new rotors, new tools, new clients. We pick the highest quality brands to delivery you the best solutions to your client's needs.
As a business owner in this industry, you want to see the green industry flourish. Put simply, if it fails, you fail and it it does well, you do well. Attending conferences, seminars, joining industry boards, talking with other owners and using Wolf Creek's resources, are all ways to help the industry grow.
When we all work together we complete the circle. We make your life easier, which creates opportunities for the Wolf Creek team, which has a return on investment for the WCC owners. And, when our owners are doing well they put it back into the company and into you. So, a big THANK YOU from Wolf Creek Company! Run with the pack!