Everybody likes the work good landscape contractors can do, but few like the process of finding a good contractor!  And why would they?  Hiring a contractor has an element of risk.  Fortunately that risk can be greatly reduced if not eliminated.
Clearly defining your wants, a little background checking, and your instinctual gut feelings will pave the way to a successful project.

Many landscape contractors will perform all the work, some will sub-contract specialty work to other contractors, some will only handle the work they are comfortable with.
The trend the past 12 years is for landscapers to do all the work themselves.  But that trend has reversed as the complexity of work is increasing.  Example, many landscapers prefer to sub-contract the irrigation system to a irrigation specialty contractor.  Same for lighting, water features, etc.
Knowing who the sub-contractors are is another tip.  If the landscaper you are about to select uses subs, then ask who they are and give some consideration to their reputation as well.
Reputation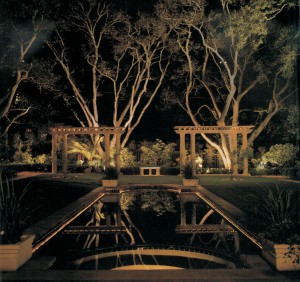 One of the most often reported customer complaints about landscape contractors is lack of response. Second is a lack of trust that a good job will be received.  The tendency to hire based solely on price must be tempered with a little homework so you are aware of the company you might be doing business with.
Contractors in all trades have a reputation. The best route in hiring landscape contractors is to find out what their customers think of their work and their service. A good strategy is to talk to people you know who have hired the type of landscape contractor you need.
Research until you can isolate 2-3 companies with the reputation you are comfortable with. Then you are ready to call them to for bids. The Yellow Pages and internet will help you find contact information, but please do not judge a contractor by ad media!   The worse method is to call 6 contractors that pop up at the top of the search engines.
Your Landscape Vision
Next make sure you have a clear vision of the landscape environment you want before you meet.  A clear vision may not include specifics about the materials or installation details.  However, you have something in your mind of what you want.  Prepare your description of what that vision is so you can accurately communicate it to your prospect contractors.
Good landscape contractors will ask for that description and the more you give them the better.  Good contractors will also question you about it to make sure they understand and will likely offer alternatives and options to add to it.  Work with them to paint a complete picture.
Knowing Your Landscape Contractor
First impressions usually are very accurate.  How the contractor looks, speaks, and behaves will give you many subtle clues about what you could expect if you hire them.  While your decision should not be based on "gut feel" it can help you discern the best choice if you believe your gut feel has been accurate in the past.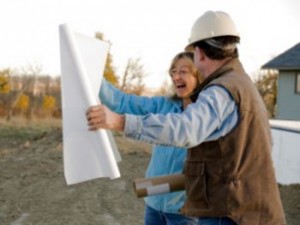 When speaking with your candidates, ascertain how responsive they are. If they don't respond well while trying to earn your business what will happen when you have a problem or need service?  Responsiveness also involves listening. Do you get the sense that the contractor cares about what you are saying or asking for?
Ask about other landscape jobs they've done similar to yours.  You seek a level of comfort they are experienced enough to handle your need.  Many  larger contractors have a web site with such information, visit and see what you think. Get a few referrals and actually call them.
What about the young guy starting a new company?  Obviously he won't have a long list of referral customers or jobs completed.  He might do a great job for you but you will have to evaluate him differently.  If you've established that he is responsive and you have a level of comfort then you may be willing to accept a little more risk.  Everyone has to start somewhere.
Materials suppliers can be a good source of referral.  Just be aware a supplier will not (and should not) speak ill of a contractor.  If they don't feel comfortable recommending a contractor you will sense that in their non-committal bland answers to your questions.
We offer contractor referrals (in our area of service) if you are interested.  Generally we contact 2-3 nearby contractors that we feel comfortable will handle your specific requests.  Click here to use our find a contractor form.
The Quote and Price
You will be given quotations.  Landscape contractors vary in the format of their quotes.  Some are very professional others not so much.  The quotation should give you the information that lets you know the contractor heard what you were asking for and are proposing a solution that works for you. Judge quote content more than appearance.
Yes price is important, but should never be the only reason you select a landscape contractor. Many times over the years I have spoken with homeowners unhappy with a contractor's work, but after seeing what was done and asking what they paid all I could say is they got what they paid for.  Price is only a tie breaker between contractors offering solid viable solutions.
You don't get premium work when hiring the lowest priced contractor. Contractors promising high quality work at low prices are often either unscrupulous or incompetent. Not exactly the characteristics you are looking for!
If the price is too much then cut back on what you are asking for.  Example, if an irrigation system for the whole yard is too much to handle right now then do the front yard and have everything ready to add the backyard next year.  Don't accept lower quality workmanship or product.  Such decisions always cost more in the end.
If not provided, ask for evidence that they are current with Workman's Compensation insurance, have general liability insurance, and their trucks and equipment are insured. Look for at least $300,000 of liability insurance.  This is for your protection in case something happens while working on your property.  Landscape work does have some dangerous activity associated.
Some areas require a landscape contractor to be licensed or registered; if so ask for a copy of the license if not already volunteered in their quotation packet.
Whatever is agreed to must be documented.  An agreement of some sort should be drafted.  Be sure you are comfortable with all that is included.  Most contractors have such agreements and they tend to be easily understood.
The agreement or contract should at least include a complete description of work to be provided, any special needs or conditions for your job, start and completion expectations, payment terms, and description of any warranties or guarantees. Remember you can add to the contractor's agreement form anything both of you agree to.
Deposits
Sometimes a landscape contractor will ask for a deposit.  Most deposits range from 10-25%. There are some legitimate reasons for a deposit.  Materials costs may be too much for the contractor to fund until job completion.  In such cases some owners will ask for materials to be stored on their property so if the contractor disappears they at least own the materials.
Another option is to do a joint check.  In that case you will write your check to the contractor and the materials supplier.  It cannot be cashed until both sign, which guarantees the supplier they will get paid.  This allows the contractor to purchase materials beyond his credit limit.  You would be asked in advance if you agree to a joint check.
Another reason some landscape contractors ask for a deposit is to demonstrate you are serious about doing the job.  For them deposits are ways to stop people from cancelling a job after they have scheduled their crews and purchased costly and perishable materials.  It's a response to past wounds.  Yes, landscapers sometimes get screwed by their customers!
Job Timing
A sticking point may be the timing for the installation. Landscape contractors book up quickly in the spring months in our part of the country. A job signed for in May might not get installed until July. If you want the work completed at the beginning of the season then consider having it installed during the fall or winter.
At least get the installation booked before spring so you are first in line. Most contractors like booking jobs during the fall for winter and early spring installation to fill in low revenue months and give them a head start for the coming season.
Job Completion
When the job is complete there is normally a final meeting (walk-through) for the contractor to show you what all was completed and to gain your approval the job was done as agreed.  If the work is per the agreement then complete the transaction.  If there are additional tasks you want done, then start another agreement.
Final Thoughts
A landscape professional listens and tries to provide exactly what you want.
The low price guy is low for a reason . . and it probably isn't a good one.
The response you see during the bidding phase will indicate the response you see after you've paid them.
Personal appearance and demeanor will indicated the contractor's professionalism.
Bids that don't match up with your specifications indicate a contractor who is not concerned about your wants.
If you feel pressured or are given an overly "slick" presentation . . . beware.
Beware of the contractor who seems overly fixated on lower price products, reducing the materials used, or trying to cost-cut the job.  You want the contractor who seems fixated on satisfying your request.
Above all learn about a landscape contractor's reputation.  Other customer's are your best source of information.
Take your time when picking landscape contractors. Find the person you feel comfortable with and has proven a degree of customer service.
If you still need help finding a contractor in the Ohio, West Virginia, or Pennsylvania area, we can help!