So, the season has coming to an end. What now? For some the cold means snow removal, but there is another option. The money is there in lighting! Summer and Fall lighting are great ways to develop new customers that can carry into the new season. But, too often landscapers forget about winter lighting opportunities. I'm talking about Christmas lights!
Setting Christmas lights up creates an opportunity to make good money well into the winter. The holiday decorating is a much anticipated and dreaded aspect by homeowners.
We all love the look and appeal of the holiday spirit but dread bracing the cold putting up the lights and removing them just a few weeks later. Lights in general are a little more difficult than some may think. Here are some tips.
Light Installation Tips
When installing lights, first find a focal point. Without a focal point the house will just look overly lit and not aesthetically pleasing. If a home has columns, framing the entryway is a good place to start.
Consider the surface. Determining gutter thickness and shingle flexibility will be important in determining how to best hang lights along a roof-line.
Measure any straight area where you desire to hang lights. This will help you determine how many strands you need. Also, be sure to keep in mind where the power source is. You will need to measure the distance to the power source to avoid getting stuck short in the end. Planning out your design will also help in avoiding this mishap.
Determine how many lights the homeowner desires. The number of lights you'll need to decorate trees and shrubs is a matter of personal preference. The typical measurement is 100 lights for every 1-1/2-ft of tree or shrub you want to cover. So a 6-ft evergreen needs at least 400 lights for a basic level of lighting. Although, homeowners may want more. In this case, stagger two sets of lights side-by-side. Some stringed lights also have the option of being set closer together. Finding differently spaces strings will make for a brighter set up.
Use LED lights because they will save money on energy costs and you don't have to worry about them overheating.
Icicle lights  are a popular look for a rooftop. Although, there is a method to make them look more authentic. Make sure to cluster them together, if stretched too far apart the look is completely lost.
Net lights work great over bushes. This blanket of lights can simply lay over bushes, creating easy installation and removal.
Be sure to keep within the same type of bulb among all the stands. LEDs typically have a bluish tint, whereas incandescent bulbs are slightly orange. When hung side-by-side, the color does not match. In addition, lights can even vary based on manufacturer and how old they are. Buying new lights is the safest and easiest route.
Some people jimmy rig lights, using staples, clothespins or any other contraption. But, light clips work the best for hanging Christmas lights.
There are an array of light options spanning across color and shape. Don't go over board mismatching lights. Make sure you group the same light-type together. For example, group lights by white lights on bushes, but colored lights on trees. Keeping a pattern or design method will lead to a great setup.
Great Areas to Light
Some popular spots for outdoor Christmas lights include:
Along your roof-lines or eaves
Atop bushes, hedges and trees
Around pillars, posts or deck railings
Around windows, door frames and other architectural features
Near driveways and pathways
Inside window boxes and planters
Hanging Preparation
When preparing to hand lights and other decorations there are some things to consider.
Practice safety. Use extension cords that are UL safety approved specific for outdoor use. Also, look for lights rated for indoor/outdoor use. This information should be listed on the lighting package. Outdoor lights should be plugged into circuits protected by ground-fault circuit interrupters. If outside plugs are not GFCI protected, they can be purchased. Be careful not to overload a circut. A warm pub or wire can be overloaded and dangerous. Another sign of overloading is circuit breakers or fuses that blow repeatedly. This usually means you have too many light strings directed to one circuit.Keep holiday lights on only during evening hours and turn them off when you go to bed or leave the house.
Inspect the Christmas lights. Frayed or damaged cords are a safety hazard. Also, unexpected burnt lights can ruin your entire design.
Come up with a theme with the homeowner. Select a collection of lights and decorations that will tell the story. Highlight the theme with white or subtly tinted lights.
Step By Step Installation
Don't just go right into hanging up Christmas lights. Decide what you're going to work on first and gather everything together. It is best to start with bushes, then go to trees, windows, doors and finally the roof-line. Make sure to step back as you go and make sure everything is shaping up the way you want it.
First. Test the Lights
If you followed the above recommendations, you bought new lights. But, just because lights are new,  The last place you want to find out your lights are busted is on top of a ladder in the cold. Go ahead and attach your light clips at this point and make sure they're all in the same direction.
Second. Shutters and Shingles
To attach lights to your gutters, use an all-purpose light clip. It works with any type of light. Hang the lights pointing up or down, just make sure they're all clipped in the same direction. If you don't have gutters, you can use the same clip to attach lights to your shingles instead. Simply flip the clip around.
Third. Hanging in Trees
If you're hanging lights in a tree, try using a light-hanging pole. Hanging poles are also great if you don't want to get on a ladder.
Fourth. Railings
Next, attach lights to railings. Decorating a porch using deck clips will create a complete look for the design.
Fifth. Set a Timer
Using an outdoor timer is a must. No one wants to wake up in the middle of the night to realize their Christmas lights have been on all night. Plugging lights into an outdoor timer will allow the homeowner to regulate at what times they want the lights on, without the hassle of being home to manual change them. Just as for a year-a-round outdoor lighting system, timers are a must. Some timers even have light sensors that automatically turn on at dusk or are solar powered.
Sixth. Flip the Switch
Congrats! You can now turn on the masterpiece and admire. Make sure the homeowner is happy and collect your dues.
Why Should I?
Putting up Christmas lights and decorations for homeowners is a great way to end your business' season by increasing the bottom line. Hanging lights is inexpensive on your end. Depending on the size of your operation you may have to hire some help, have a ladder and buy lights for some homeowners. Although, you will be reimbursed for all materials. If you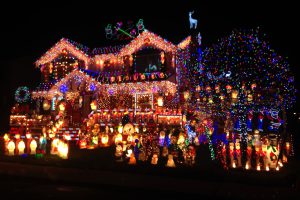 are willing to deal with the cold you can rack in big money. In addition, continuing your season will also better prepare you for the spring.
Those homes you hang lights for are more willing to give you a call in the spring for their landscaping needs. Because they trust the work you do and know your company, you can easily become their go-to for any other land care needs. As a landscaper, if you sell outdoor lighting, this is a great opportunity. WAC Lighting and other companies offer year-a-round lighting that can change colors when desired. Giving homeowners the option to invest in year-a-round outdoor lighting in addition or in replace of hanging Christmas lights means big money in your pocket. So, take advantage of the cold weather and holiday season. Go out and sell your self, and see a great return on investment.
Final Words
Wolf Creek Company offers outdoor lighting from companies such as WAC Lighting that can help you complete a job. Contact your local Wolf Creek location or call 800.488.7305 for questions and orders.
If you are a homeowner, hire a professional! Using a professional ensures that all the lights will be, and remain functional throughout the season, will be safe and will look great. Click here to find a contractor.