Buy a case of Pro-Spray® sprinklers and a bag of spray nozzles*, and get a second bag of nozzles FREE!
In a blind test with real contractors, 75% of participants chose Hunter nozzles over the competition based on field performance. Hunter nozzles distribute water evenly with a smooth spray pattern, fight the effects of wind with large water droplets, and minimize overspray with crisp edges.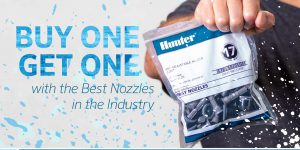 (click and order)
then get a second bag of nozzles FREE!
Offer valid until September 30, 2019.
*Model PROS-04 only. Pro adjustable, pro fixed, and specialty strip nozzles only. Bubblers and other specialty nozzles are excluded.