Rain Bird has released the new IC Field Control System. With Wolf Creek Company's help, the launch of the new innovative sprinkler system will save green all around.
The Rain Bird IC Field Control System saves green. This system is great for your course, great for the environment and great for your budget.
Less is More
An integrated one system control piece for each rotor means less water and energy. Everyone wants to save money, and Rain Bird kept that in mind when developing the new IC system. It requires up to 90% less wire than traditional satellite control systems and 50% fewer splices than a traditional decoder system. Because the system requires fewer splices and less wire, the cost is reduced. Less time and effort to install the system means less money out of your pocket. Industry-leading surge protection and fast, pinpoint diagnostics also means less maintenance.
Easier is Better
Creating the central control system database can be tricky. Thankfully Rain Bird also kept that in mind by offering tear off bar codes with an east to use scanner. The Integrated Control Module (ICM) helps you create then get back to work. As soon as the wire path is connected to the computer, you can turn on the sprinklers and valves.
The IC System is also easier to design. Only simple calculations are required. It eliminates the need for satellite controllers to design around or conceal.
In addition, the IC System is capable two–way communication with every ICM on the golf course. To make it easier, you can manage almost all troubleshooting through intuitive diagnostics built into the central control software. To allow your operations to move smoother, the learning curve for maintenance is minimal. Course technicians can easily accomplish most maintenance tasks. The ICM is easily removed and can be replaced if necessary.
The output of the IC System is 28 Volts. Due to this, Rain Bird can label the IC System as a "true less than 30 Volt control system." This is a benefit because, a lower than 30 Volt system is typically not subjected to code requirements regarding deep burial of the wire path.
The IC Series System is compatible with all of Rain Bird's central control "Smart Features" including: Rain Watch, Minimum ET,™ Smart Weather,™ Smart Pump,™ and Superior Monitoring of system operation.
Dependable
The IC System is a combined controller, rotor and valve. This simple yet sophisticated system is built around a new generation of Rain Bird's proven solenoid and satellite technology. Simplicity results in reliability. The IC System is designed to always turn off if problems occur. If problems occur such as the wire path is damaged or cut, or if central control communication is lost, the ICM is designed to turn off automatically. The entire control system is below ground because the ICM is built right into the rotor or valve. Unlike field controller systems, the below ground system offers protection against damage from vandalism, flooding and insects.
The Look
Since the IC System control is designed to be entirely below ground, the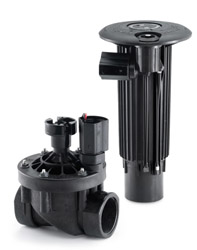 components are completely safe from golf course activity.
The IC System allows the full benefits of Rain Bird central control systems including: ET-based scheduling, customized course graphics, multiple mapping options, and the ability to view the placement and operation of individual rotors.
Contact your local Wolf Creek Company location for more information or to place an order now.