As the smell of freshly cut grass fills the air, options for spring projects are abundant. So, with so many options, what projects should you make a priority? 
The overall goal for the homeowner is curb appeal. It doesn't even matter if the homeowner is moving or staying put, they are investing in the future. They will likely want to see how they can make improvements in ways that will save them money now and in the future.
No matter what job you take on it is important to be forthcoming with the homeowner. For example, a homeowner may ask for something that simply isn't practical in the professional landscaping world. A good contractor will communicate other avenues for them to take, without disrespect the homeowner or ridiculing what they want.
Step 1
The first step however will be to get the projects in the first place. Chances are many people will find you online, or see a flyer or sign around the neighborhood. First impressions are everything so make sure any material you are putting out represents your company in great light. You want to attract the homeowner.
Have you ever heard of the theory, keeping up with the Jones? Basically, everyone wants what everyone else has. Keeping up to date with outdoor trends in the areas you work in will help you tremendously with marketing.
These days homeowners want to do more "living" outside. This entails soothing water features, plenty of noninvasive lighting, elaborate outdoor appliances and a relaxing patio. Patios, softscapes, fire pits and fireplaces, and water are all the rage!
Once the homeowners have found you, it's time to plan with them to make their outdoor dreams a reality.
Water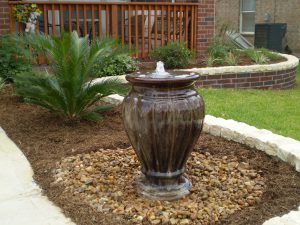 It is natural for people to be attracted to water. Water draws people in for different reasons, although the end result is relaxation and enjoyment. Water features, ponds, lakes and pools create a great attraction for homeowners and their guests.
The sound of trickling water along a path or near a sitting area can change the whole feel of the outdoor space. Adding water to an area can be a big project, however adding a simple water feature can also be as simple as a few hours.
Adding a pool may be desired by a homeowner, however are known for deterring future buyers in many cases. A small pond can be a good compromise for a homeowner.
Patios
Make small landscaping changes can make a big difference for a home. Aside from good landscaping using natural colors, patios are a much sought after attribute for a yard.