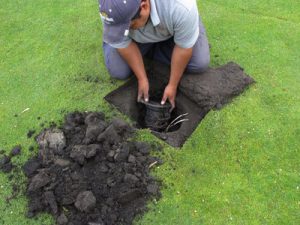 There are a number of roles to fill on the golf course. One of these is the Irrigation Technician. An Irrigation Technician may install and definitely maintains a course's irrigation system. They may perform such duties as repairing or replacing valves, satellites, rotors, and pump components. They winterize equipment and run tests in the spring to ensure everything is in working order.
Because of the labor intensity of the job, this position requires outdoor physical labor regardless of the weather. An Irrigation Technician may use any tool from a shovel to a wide range of power tools. They are problem finders and solution providers. Also, they continue to grow their skills in a variety of other functions. Functions may include, caring for other aspects of a golf course.
The Compensation
On average, an Irrigation Technician would make around $37,000 a year with hourly rates between $10 and $20 per hour. With long days and weekends adding to those hours, overtime during the busy seasons is very common. Overtime pay can range between $15 and $30 per hour, raising yearly pay somewhere between $23 and $48 thousand per year.
Classes are available, including ones offered by Wolf Creek Co. to help those looking to start or advance their career in this area. Keep your eyes open for Wolf Creek Co. to announce our winter class schedule. Our classes will include certified courses designed specifically for those looking to earn more money as an Irrigation Technician. A future in Golf Course Maintenance can be a bright one for those willing to learn how and get the job done. Especially for irrigation!