Summer is here officially, meaning the Green Industry's busy season is in full swing. This year's top 10 list is out and the experts expect to see the trends following water features. Rainwater harvesting is at the top of the list, with gardens and drip/water efficient irrigation filling up the bottom.
"Water issues are hot topics for many communities, and many people are turning to landscape architects for creative green infrastructure solutions." – Nancy Somerville, Hon. ASLA, executive vice president and CEO of ASLA
Water is likely a hot topic for two reasons: saving water is both eco-friendly and a money saver. With new tech showing up everyday making users' lives simpler, clients want their outdoor living more manageable as well. They'd rather spend their time enjoying their outdoor space than maintaining it. They don't want to break their backs or their wallets.
Looking at these trends, it makes sense that lighting and wireless features are making up 67 and 66 percent respectively of the 3 most popular outdoor design elements. The only thing above these would be outdoor fireplaces/fire pits. Lighting will be an easy up-sell for most landscapers as they run irrigation; home owners will want to show off their newly upgraded outdoor space.
The Things that Should Have Made the List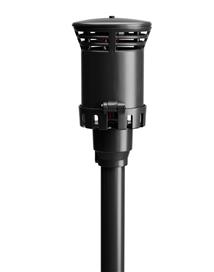 A few things that didn't make the list that maybe should have this summer are mosquito repellent and sound systems.
The threat of Zika and West Nile virus is higher this summer. A simple upgrade to help home owners feel safe would be adding protection from mosquitoes. Nutone's mosquito repellent can be added easily to any lighting job, or homes that already have lighting set up.
Sound systems are improving all the time. SonArray Sound Systems can also be a great add-on item for homeowners looking to really spend quality time outdoors.
When it comes to landscaping this or any year, it's really about sustainable design that maximizes the potential of the client's outdoor living space.