A pond is a wonderful landscape feature. Among many reasons, it adds curb appeal and enhances the experience of the outdoors, however it also requires maintenance. One of the main problems with a pond or a lake is the formation of algae. One of the easiest solutions to that problem is to add a fountain.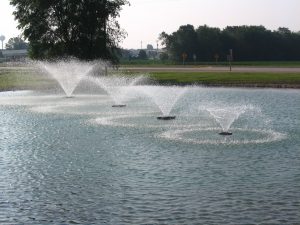 A fountain not only adds a wonderful enhancement of relaxation to your pond; it also provides aeration, which is the best solution to keeping algae at bay. Algae flourish in water that lacks oxygen. If water is properly aerated, it maintains beneficial levels of dissolved oxygen, which eliminates excess nutrients (through oxidation and aerobic digestion) and thereby limits the available "food source" for algae. In short: the better oxygenated the water, the less food for algae.
There are other benefits to aeration: it removes dissolved gases (such as carbon dioxide) and oxidizes dissolved metals such as iron, hydrogen sulfide, and volatile organic chemicals (VOCs). Aeration is often the first major process at the treatment plant. The efficiency of aeration depends on the amount of surface contact between air and water, which is controlled primarily by the size of the water drop or air bubble. Oxygen is added to water through aeration and can increase the palpability of water by removing the flat taste. The amount of oxygen the water can hold depends primarily on the temperature of the water. (The colder the water, the more oxygen the water can hold).*
Kasco's VFX fountain line delivers the superior aerating performance you need, coupled with a beautiful visual display. These units are self-contained, efficient, easy to install and operate, and can be used in multiple applications.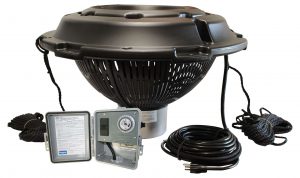 Outstanding oxygen transfer rates
Extremely efficient with low operating costs
Durable and corrosion-resistant
Unique clog-resistant design
Available in 1/2, 3/4, 1, 2 and 5HP options
They can operate in as little as 15 inches of water
Approved to UL and CSA standards by ETL as complete packages and carries a 2-year warranty on the 1/2-1HP and a 3-year warranty on the 2 and 5HP models.
Easy to Use & Cost-effective
These fountains are the least expensive to purchase, maintain, repair and operate. Each unit ships with a control panel with 5ma GFI protection, power cord, and mooring lines. Easily installed in less than an hour!
Versatile and Strong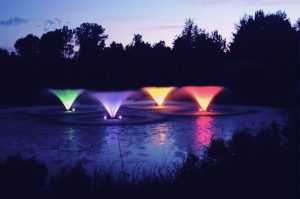 Kasco's VFX fountains are available from 1/2 to 5HP in a multitude of power options including 120V, 240V, 460V, single-phase and 3-phase. Power cord lengths are available as 50, 100, 150, 200, 250, 300, 400 and 500 ft. Check the part number table for specific power and cord length options.
Designed with heavy-duty stainless steel components for continuous operation, extended motor life, and corrosion prevention even in saltwater. They are the least likely fountains to clog, thanks to our exclusive deflector technology, prop guard and standard bottom intake screen.
Build Your Fountain to Spec
You may use the table below to decide on the fountain model that meets your specifications:
Determine the size of your pond or lake and the depth of water
Select the voltage that's right for your set up
Choose from the LED composite or stainless steel light kits, or choose the RGB color changing lights to extend the enjoyment of your fountain into the evening hours.
Consulting – Contact your local Wolf Creek location so we help you determine the fountain/aerator that is right for you.  We will help make your life easier! Visit your regional Wolf Creek location or call 1.800.488.7305