Kichler Lighting is one of Wolf Creek Company's trusted brands. Kichler's NEW AND IMPROVED 12V integrated LED accent light has the durability you expect with an enhanced modern look, stronger performance and superior light quality.
But how can we appreciate where we are if we don't recognize where we came from?
Kichler is offering an upgrade from their "better" fixtures to the "best" generation fixtures. By rewriting the rules for integrated LED Landscape Lighting, Kichler's Landscape Lighting with Variable Lumen Output (VLO) is the better fixture.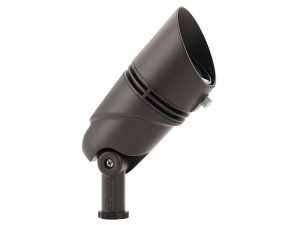 Variable Lumen Output (VLO) is the new standard in landscape lighting design, versatility and installation. Every VLO fixture delivers three lumen outputs that you can change easily on-site with a magnetic key, without the increased risk of failure associated with a mechanical adjustment. The smart technology allows contractors to create more customized lighting effects upon the initial install while carrying fewer fixtures. Plus, VLO fixtures can adjust to a landscape's needs over time. Just size your transformer based on the highest VA you expect to use, and you're ready for anything.
Kichler's NEW "best" fixtures, including the 12V integrated LED accent light offer customers another improvement in the lighting. This LED accent uses almost 60% less energy and provides even more light output versus the prior design. Less energy consumption allows more fixtures to be placed on a run while providing the homeowner a system that costs less to operate.
FEATURES & BENEFITS
• Integrated, fully sealed and encapsulated fixtures keep all critical components protected against the elements
• 9 to 15 volt operating range to assure consistent light output throughout a run
• Spot light, flood light and wide flood light beam options puts light where you want it
• 4,000 volt surge protection guards against power irregularities that can be a hazard to LED landscape lighting
• Custom T.I.R (Total Internal Reflection) Acrylic optics assure no halos or scallops — just superb, center-to-edge uniformity for clean, clear light
• True delivered lumens and beam spreads, unlike LED lamps used within socketed fixtures
Click here to see more information.Contact your local branch with questions and to upgrade your customer today!