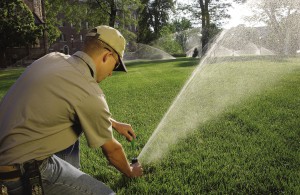 The nature of landscape irrigation systems has changed.  Gone are the days of just "getting good coverage".
Product advancements and user demands added expectations to provide time and water conserving systems.
Whether your home, office, or a sport field, the irrigation industry has the ability to conserve water, time, and money while still having the appearance and quality you demand.
A water and money conserving landscape irrigation system requires a good design, good installation, and good service.  Trying to save money on the design/installation will cost extra for many years and the system will likely not do the job intended.
Water Conserving Landscape Irrigation Systems
Design:
Using the right products the right way.  First goal is to achieve a high Distribution Uniformity (DU).
DU is a measurement of how evenly water is being applied.  Ideally you have a DU above 0.70. A variety of sprinklers and low volume product makes it easy if given a little thought.
Operation:
Control systems have made strong advances!  Even a well designed and installed irrigation system can be operated poorly, thus wasting a lot of water and money.

The cost of Smart Control is but a tad higher than old style controllers.  But the benefits pay for themselves in as little as a year.
Smart Control via ET based scheduling, remote access via the internet, decoder control, and RF communications are putting real power in the hands of users and contractors.
Maintenance:
The outside world is a harsh environment for any mechanical system.  Keeping up with minor repairs and maintenance will extend efficient lifespan at less cost.