The Commonwealth of Kentucky introduced a bill early in 2016 known as House Bill 439. This bill focuses on licensure of workers employed in the low voltage electrical trades. This is a real problem for a variety of industries. And, if it passes in Kentucky it could be coming to your state. 
What's Happening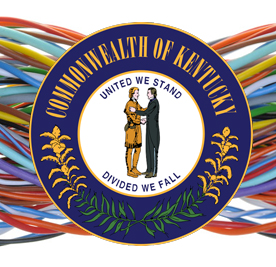 First there was the standing-room-only public hearing. There, a number of representatives from various low voltage electrical industry companies and associations spoke in depth regarding their concerns and opposition to this bill. Then, it was sent to committee for more review.
It appeared that the Commonwealth did not initially understand the depth and breadth of its proposed legislation and its problematic impact on the many different low voltage electrical industries that exist. The bill appears to be focused on the telecommunications (cable tv) and low voltage cabling segments of the low voltage industry. However, as written, HB439 also captures irrigation, low voltage lighting and others in its grasp.
The Kentucky Nursery & Landscape Association (KNLA) took the lead in representing the green industry's interests regarding this matter. Working through committees, industry trade groups, lobbyists, etc. information was shared. The KNLA is hopeful that the Commonwealth will either exempt certain industry segments or allow existing industry certifications to suffice. Fees will likely still be required, but it isn't clear at this time what those will end up being.
The Opposition
One of the green industry's strongest objections is that the proposed certification exam is not specifically for irrigation and/or low voltage lighting. The test, as it stands, currently has no questions about green industry related segments of the market. It focuses primarily on telecommunications, fire alarms, etc. But that does not mean it will not affect our industry. Without exclusions, many that install lighting, irrigation controllers, and more could be put out of work if they cannot gain a licencee for something we've been doing for some time.
The Department of Housing, Buildings & Construction, Electrical Division, will be responsible for administering the new regulations that come of this bill if and when it becomes a law. Thankfully, the legislation has been tabled for now. It did receive approval to move to the LRC (Legislative Review Committee). But, it has to cycle through the House/LRC three times before it gets voted on. And, it cannot go to the Senate until all of that happens.
It does not appear that anyone is in a rush to push this through at the moment. So, it looks like the earliest Bill 439 will come up again for discussion is early 2017. However, this is politics so you never know what might change.
The Bill
The text of the bill may be read here, and the summary, as of the time this was written, is as follows:
AN ACT relating to electrical work.
Amend various sections of KRS Chapters 227 and 227A to update terminology used to define the scope of the telecommunications exception and make consistent with other state and federal law and the evolution of low-voltage technology; establish a limited low-voltage exception for wireless home surveillance, security alarm, or energy management systems; clarify the applicability of the National Electrical code to unlicensed electrical work; add two members of the low-voltage profession to the Electrical Advisory Committee; require the Department of Housing, Buildings and Construction to establish separate classifications specific to the diverse qualifications and technical needs of the low-voltage industries.

Feb 19, 2016 – introduced in House
Feb 22, 2016 – to Licensing & Occupations (H)
Mar 10, 2016 – posted in committee
If you'd like to register your email address to receive automatic notifications when activity regarding this bill arises, then please follow these steps:
Go to: http://www.lrc.ky.gov
Click on LEGISLATION tab in the upper menu bar
Select: BILL WATCH
Go to BILL WATCH
Register for a NEW ACCOUNT
Log in to your newly created account
Under BILL TRACKING: select "HB" from the drop down menu; type in "439" in the second box
Select "TRACK THIS BILL;" this will add House Bill 439 to your list of bills (see "Current Bills Being Tracked")
Click on the Bill number and can see the full text of the bill, sponsors, summary, bill history, etc.
Lastly, under the SETTINGS tab in the upper menu bar, verify that your email appears in the Email box, or add it, so that you can receive updates regarding this legislation directly from Kentucky.gov