Probes to test soil moisture have been around awhile and many turf managers are using them. Stevens Water Monitoring has taken soil moisture testers to the next level with their POGO Stick.
What Is the POGO?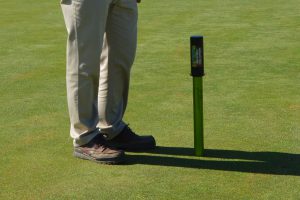 Born of over 10 years of testing and development, the POGO Stick is one of the most powerful and useful portable soil testing device for a turf manager. POGO is a durable, portable, rechargeable turf/soil monitoring device with integrated GPS, WiFi, and the patented HydraProbe sensor. It is ideal for golf and sports turf applications, as well as agricultural applications.
The easy to use Wi-Fi technology enabled turf and soil insight tool works in conjunction with an Android or Apple smartphone.
POGO App
The free smartphone app collects data from the handheld probe for reporting, analysis, and storage. Data is stored in spreadsheet formats readily usable by Excel and other spreadsheets. Stevens Water Monitoring continues to add functions into the app. When using the app, emailing the data to your PC is the fastest way to transfer. The following are reporting functions built into the smartphone app:
Soil moisture percentage
GPS location
Location name
Memos you enter
Electrical conductivity
Temperature
History of logged readings
Number of samples per zone/green/etc
Averages
Warnings outside of thresholds you set
POGO Cloud Service
Cloud based data analysis (fee based) is also available from any device with internet access. The cloud service includes all the functions built into the POGO Stick and the POGO Stick App, plus some. Added functions provided by the cloud service include;
GPS mapping of each POGO reading.
Pin/cup locations over time.
Sprinkler distribution uniformity over time.
Customized growing degree models.
Optimized cultural practice timing.
Reporting of historic data in several modes.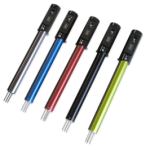 Three primary sensors are employed; moisture, electrical conductivity, and temperature. The sensor is the same as depended on by the USDA and NOAA. The technology has been proven by many other applications, Stevens has tied it together into an easy to use package at an affordable cost.
Use is easy. Insert the probe into the soil, click "sample", then click "save". When connected via Wi-Fi with your phone data is then stored to be downloaded on your PC. If using the cloud service, your data is there when you login.
This tool captures moisture, salinity (EC) and canopy temp with its integrated sensor precisely positioned in the most influential component of the turf system. It is also offered in several colors as seen in picture. To read more about this industry leading technology click here. To contact one of our trained professionals for more information or to place an order call 800.488.7305.