Time is money right? If you're not using the NDS EZFLOW French drain then you're wasting time and money. This french drain will cut installation time by 50%. 
French Drains Hard at Work
An easy way to figure out where a French drain should be put in, is to watch where water pools , especially if it sits for hours or days after a rain. Some of the most common drainage problems homeowners face are:
Flooding in a backyard.
If heavy rains have left your yard with an unwanted water feature or the spring thaw has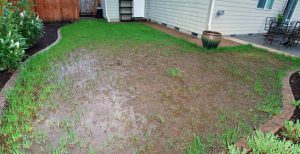 saturated your yard, a French drain can help. Placing a French drain in this wet region allows the drain to collect unwanted water and redirect it to a safer location, giving you back your green space.
Damage to an outdoor patio.
Your patio is a great source of pride and a meeting place for family and friends, but excess water can damage the area, deteriorate the pavers, and also create a breeding ground for mosquitoes, ruining your ability to spend time outdoors. A French drain can work as a shield, collecting water before it reaches the patio and diverting it away. This will eliminate the standing water that mosquitoes need.
Damage to a home's foundation and low-level areas like a basement.
Check the walls in your basement. If you notice a musty smell or wet floor, you need a French drain immediately. A French drain can stop this water from ever reaching your home, protecting your basement from flooding and your home's foundation from incurring additional damage.
Traditional French Drain
The old way to make a French Drain is to dig a trench, lay in the drain tile, fill with gravel, then dress off the trench.  By the time you've hauled the gravel you are exhausted and you have destroyed a yard with equipment or wheel barrows. NDS took a 3" perforated corrugated drain tile and wrapped it in a 7" layer of light weight aggregate. It's all held together by a filter fabric. Bottom line, there is no need for gravel to install a drainage line!
The NDS EZFLOW French Drain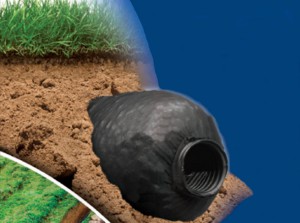 The EZ Flow way is to dig a trench, lay in the EZ Flow tile, and dress off the trench. It takes half the time. And you haul no gravel! EZ Flow tile is crush proof, very light weight, has a 100 year lifespan, and it's even "green". EZ Flow qualifies for LEEDS credits.
List price is around $6 per foot. Packaged in 10' sections with 9 sections per bundle. Consider the reduced cost because no gravel is required, 50% less installation time, and wear and tear on your body. It works for any type of drainage installation such as typical french drain, foundation drain, and it is great for retaining walls.
It's mosquito season!That means any standing water in your clients yard is a nesting ground for the blood sucking pests. Mosquitoes are inevitable but there are things you can do to help your clients experience less of them. Mosquitoes lay their eggs in still water, puddles and standing water are a breeding ground before you know it! Low spots in yards create easy places for water to pool. Although a hassle for families to deal with, you can resolve this problem for them.
For more information about french drain installation click here or contact your local Wolf Creek location with questions. We also offer drainage classes online and on-site. Click here to see this year's winter class schedule.