ContractorTools helps contractors quickly create estimates, invoices, and payments on an iPhone or iPad and sync them with QuickBooks Online. You can also sync between multiple devices and multiple people within your company.
FEATURES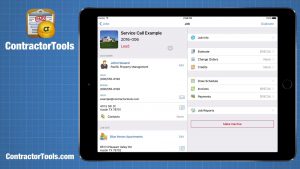 The following features are included in ContractorTools:
Estimating
Change Orders
Credits
Draw Schedules
Invoicing
Payments
Job Templates
Custom Costbooks
Craftsman costbooks (optional in-app purchase)
Sync with QuickBooks Online
Sync between multiple users and multiple devices
Full support for international currencies and units
A Look at the Details
ContractorTools allows you to quickly create professional estimates and win more jobs. The nice part is, it takes care of the paperwork so you can focus on your work. Estimates can easily be produced at the job site, which allows your customer to sign it on your iPhone or iPad. In addition, a PDF version of an estimate can be emailed to the customer directly from your iPhone or iPad. The professional look and timely response that ContractorTools gives you can help you to win more jobs.
ContractorTools also allows you to sync with Quickbooks to eliminate data entry. You can both create an invoice and collect a payment at the tap of a button. Estimates, invoices, and payments can all be synced to QuickBooks Online. This great feature will eliminate hours of redundant data entry.
Don't worry, because you also don't have to online to access this tool. ContractorTools is a native app that is fully functional without an internet connection. This app is fully functional offline and data syncs to the cloud when online. This feature is great because you don't have to worry about if your site will have connection.
Promo Code
If you'd like to try ContractorTools, use the promo code WolfCreek to get a 2 month FREE subscription.