We are excited to announce that our eCommerce site is now live! Wolf Creek Company is committed to Green Industry growth. We invest in our customers and are active contributors to industry efforts. We believe our new eCommerce site is another step to helping you grow.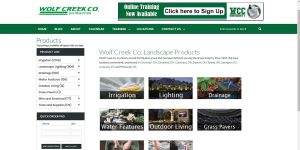 Start by registering for an account by clicking here. It will ask for basic information so we can give you access to your personal account.
Once you have been given your login information, logon and start browsing! Click here to access the main site. Products are clearly defined in clickable categories. You can search for products by going through the categories or by typing in the product number or keyword in the search bar.
As you find the products you need, type in the quantity you need to the right of the item's information. Then, scroll to the bottom and click "add to cart" or "add to quote". If you're just wanting pricing, use "add to quote" and we will generate a quote for you. If you would like to purchase your products, click "add to cart".
You can go to your cart and checkout. We will invoice you with your purchase and the order will be ready for pickout or free delivery based on the instructions you leave at checkout.
We will be continuing to make improvements and additions to the site. Stay tuned for more site how-tos and insights into other applications. We appreciate your business and hope this tool can help you save time and grow your business.
Contact your local branch with questions.