Rain Bird is who we think of when we want quality. Rain Bird pioneered remote irrigation system access with the development of the Maxi III System for golf courses more than three decades ago. Now, to take it a step further, they have made the remote access and control available for residential and light-commercial irrigation systems with its new LNK WiFi Module.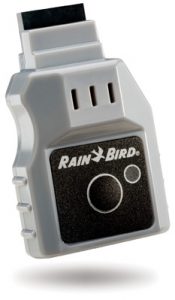 With more and more homeowners desiring to have control at their finger tips, Rain Bird is once again beating out the competition. With this system individuals can manage ESPMe and TM controllers from their mobile devices. The LNK WiFi Module offers simple remote access, and can also help irrigation sites use up to 30 percent less water with critical, real-time alerts and integrated water management features.
The LNK WiFi Module is a small device that plugs into an accessory port on Rain Bird's new ESP-Me and ESP-TM2 controllers. Contractors can also install the module with existing ESP-Me installations after swapping out the controller's old front panel with the new WiFi-compatible version. This provides contractors with a straightforward, simple upgrade opportunity that doesn't require replacing the controller.
The LNK WiFi Module provides complete irrigation system management via a free downloadable mobile app. The module receives weather information from the Internet, automatically adjusting system run times on a daily basis. It also provides users with notifications on their mobile devices that assist with troubleshooting, system diagnostics and operation while providing meaningful weather event alerts.
This is an easy sell for contractors because homeowners are already requesting a system to preform these functions. Contractors can quickly group controllers by geography, subdivision, street or any other way they prefer. This improves technician efficiency and simplifies service calls.
Thanks to the LNK WiFi Module, irrigation sites can meet even the most stringent water restrictions. In fact, when the WR2 Wireless Rain Sensor is installed with the LNK WiFi and the ESP-Me controller, customers benefit from an EPA-WaterSense-certified solution.
Wolf Creek Company continues to choose Rain Bird because they have been manufacturing efficient, reliable irrigation systems for more than 80 years. Now, with the LNK WiFi Module, contractors and property owners can access and control compatible systems from anywhere in the world.