With more and more homeowners desiring to have control at their fingertips, Rain Bird has created its new WiFi Module. With this system individuals can manage ESPMe and TM controllers from their mobile devices.
This new WiFi Module offers simple remote access, and can also help irrigation sites use up to 30 percent less water with critical, real-time alerts and integrated water management features. The WiFi Module is a small device that plugs into an accessory port on Rain Bird's new ESP-Me, ESP Mei, and ESP-TM2 controllers. And, online access is provided free by Rain Bird. Their free app will work on any phone or tablet.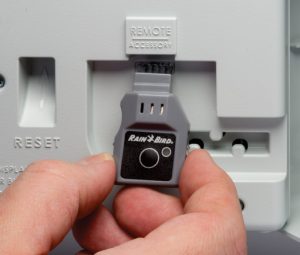 Controllers older than January 2017 must have the panel replaced to support the new WiFi functions. The ESP Controller WiFi enabled upgrade panel normally runs $46.85, and the WiFi adapter would be $78.08, a total of $124.93. However, through February 28th, you can get both the WiFi Module AND controller for just $99 exclusively from Wolf Creek Co.
Contact your local Wolf Creek Company location to learn more and order today!