Homeowners love it when pro-active contractors introduce them to things that make their lives easier!  (Especially when they didn't even realize they needed it!)  As of 2017, there are over 224.3 million smartphone users in the U.S. alone, and many of them enjoy controlling other devices from their WiFi-enabled smartphones.  Thermostats, alarm systems, music, TVs, etc., well, the outdoors is no longer an exception to that simplified control.  
And the awesome part for contractors?  With these WiFi outlets you can offer this upgrade at the time of sale or offer it as an after-the-fact upgrade. There is no set-up fee or monthly charges.  It's as plug and play as it gets. And, you look like a savvy genius introducing easy controls into your proposals.
Simple Controls
There are a multitude of uses for these smart outlets. For our purposes we're focusing on how to use them with landscape and architectural lighting.  They are a simple way to turn all or some lighting transformers on/off with your smart device (phone or tablet). But, so far these devices are not capable of dimming light output or breaking a single transformer up in to multiple zones.  So essentially they provide a really easy way to turn things on and off with your phone.  They also allow you to set programs for automated operation if you choose that instead.
The following devices offer different options based on the needs you have for your lighting project.  Some install inside the transformer housing while another is made for weather-proof exterior use.  Another HUGE benefit is that at least one of these smart outlets will work with any given transformer so you can add one on any project regardless of the transformer that's there.  The key thing you want to confirm is the capability (age) of the homeowners' smart phone to make sure it will work with the WiFi outlet.  Check out the comparison chart below and call your local Wolf Creek warehouse experts for more information.
Whenever and Wherever you Need Them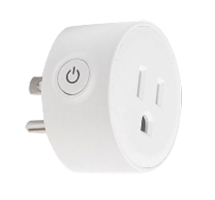 Essentially, as long as the devices have a Wi-Fi signal and you have WiFi or cell service (3G, 4G, or LTE) you can control your lighting transformer from anywhere in the world.  The device programming is simple, but you can set up programs as simplistically or complex as you want.  You can control multiple devices manually right from your phone. Or, you can set up different automated programs for each day of the week.
The apps walk you and your client right through the programming. There are no crazy long manuals to read. You don't need a degree in computer science to get this up and running.  The devices do come with simple step-by-step programming directions.  Once the programming is set up, it resides in the app. You can now share it with other occupants of the home. It's both iPhone and Android-friendly so you won't experience any incompatibility issues between platforms.
WiFi Smart Socket by Brilliance LED Company
This plug fits right inside the transformer housing. If space is an issue, Brilliance also includes a short "pigtail" that allows you to plug the transformer timer cord into the larger wiring compartment. This avoids any interference with the transformer door.  You can also plug the Smart Socket into a covered exterior outlet. Then, plug the transformer into it if that works better. The Smart Socket will work with iPhone or Android (IOS 8.0 or Android 4.1 or newer). It sets up easily once you download the free app ("BLED SOCKET").
Gemini WiFi Astronomical Timers by IlluminFX Company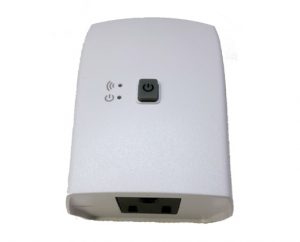 IlluminFX offers two options for WiFi smart outlets. One fits inside the transformer housing and one works outside the housing plugged directly into an outlet. This one is exterior rated/weather proof as long as the outlets are pointing towards the ground.  While the instructions are specific to each device, the functionality is very similar for each of the smart outlets.
Things to Look Out for
When you first set up a smart outlet, it's best to do so at the location (not your office).  This will prevent the device from searching for the previously connected WiFi link (your office).  Don't mount the transformer on the far side of a metal shed or barrier. This may interfere with signal transfer.  A WiFi signal booster can be used to remedy most weak signal issues in the rare instance that they occur.