Sustainability features are a broad mix of being Green, but more importantly having an environment requiring as little maintenance as possible.
(Read Part 1: Sustainability Features here.)
Artful gardening
OK, I get the trend, but its not for me. The inclusion of lots of "art" into the landscape is apparently very hot. To me though a lot of what is considered art looks like junk hung in trees. But to each their own.
Whether formal art pieces or "junk", people are adding more stuff into their outdoor environment.
Soothing Colors
Apparently the hot colors are now the subtle low impact shades. These are more commonly called "Baby-Boy/Baby-Girl" colors. So the landscape architects are looking at more pastels and cream colors.
Obviously that affects plant selection. Color preferences tend to change every few years.  It makes it hard for a landscaper to know what customers want; so ask them. Older folks still tend for bolder colors, younger people are going with what's popular.
Veggies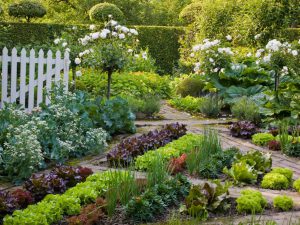 This one I like a lot. Because I don't have an open patch of ground for a vegetable garden, I've been planting vegetables in my landscape for years. It appears that many others are now doing the same.
Harvests give people a feeling of closeness with the land. It's nostalgic to the days when everyone had a garden and picked their own fruits and vegetables. And, having grown it yourself makes it all taste way better .  .  . even tomatoes, yuck. .
Living space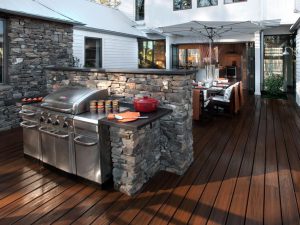 The outdoor living environment is still a hot topic. Patios are becoming more ornate and functional entertainment areas. This is great news for hardscapers.
The choices for grills, fireplaces, furniture, audio and visual supplies has grown drastically. Some are even building outdoor bedrooms!
Obviously cooking and eating utilities are big, but some features are simply for ambiance; such as  fire pits. Another common request is for specific themed areas; such as a golf green, pet area, exercise area, etc. People are looking to enjoy their lifestyle outside as much as they can. Whatever they do indoors they want to do outdoors too.
Entertainment Systems Go Outdoors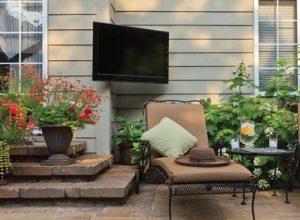 Since people are moving into their backyards, they are taking their sound systems and TVs with them. A couple of manufactures have high end outdoor sound systems that are easily installed by landscapers. Far better than the typical outdoor speakers, these bring exceptionally high quality sound to the backyard.
A couple of excellent outdoor TVs have also hit the market. These can be left outside all year long and are completely sealed from the weather. Size selection tends to focus on larger screens and are as big as anything you will find for indoor mounting. Cost is high right now, but as volume picks up prices will come down.
Obviously the sound systems must tie into the TVs. There are web enabled and/or Bluetooth controlled mixers that connect all sound and media systems and allow owners to operate their TV and music choices from their cell phone. Music and TV programs can be selected from web based providers such as Netflix and Pandora.
There's an App for that
We all know how tech is affecting every day life. People just assume they can do whatever they need from their cell phone. This includes controlling their irrigation, lighting, and water features. Manufacturers are racing to introduce web enabled devices and control apps.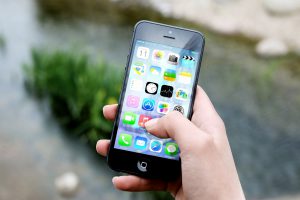 What people really want is for all the landscape systems to be controlled by the same app that controls all the systems in their home. Presently every system has its own control app and every manufacturer provides an app that only controls their brand. Bleed over is starting to happen, but we have a few more years before things will settle in to a unified common online control program.
The home automation vendors will be the likely suppliers. There is not yet a unified platform among the 20+ suppliers. This means that one home automation suppliers program doesn't work with other suppliers hardware, and few work with common irrigation or lighting controllers. Eventually a standard will emerge. We saw the same thing in the recent past with Bluetooth and computer networking standards. Green Industry manufacturers will eventually have to adapt their hardware to work with the standard control system platforms.
Moving Forward
We must watch and learn as our industry and the home automation people work this out. We can't lag too far behind this one or you will be looking confused and saying no to your customers when they ask for it.
There's a lot of exciting things happening in landscaping. It's a great time for new innovation, which leads to new trends, eventual upgrades, and better living as technology continues to advance and improve over time.