Golf course management, of course, includes developing the highest quality turf that meets the satisfaction of the superintendent, members, guests, and club officials alike. Soil testing is an important aspect of developing and maintaining that quality. In stride, Wolf Creek Golf also strives to provide you with the best tools and presents: POGO Turf Pro. 
POGO Turf Pro is a Wi-Fi enabled turf and soil insight instrument that works in conjunction with smartphones. The POGO Turf Pro is a powerful portable soil testing device that resulted from more than 10 years of testing and development.
Knowledge is Power
POGO enables you to obtain insight into your course conditions using an all-in-one system. The information POGO provides will allow you to make decisions more efficiently and cost-effectively, saving you time and money.  Immediate benefits include:
Since you can immediately analyze your turf with POGO, you can create and adjust irrigation and fertilization levels as needed.

POGO provides GPS mapping, IPM logging, pin sheets, and customized reports. 

It saves you time because it combines the capabilities of multiple tools into one.

The effectiveness of this tool has been proven to reduce the chances of turf decline and irrigation waste. 

POGO requires NO training.
Logging Data is Easy with the App
Using POGO is more efficient than hauling around multiple pieces of equipment and keeping track of papers. All data captured with the POGO are automatically stored in the app. Once you take a sample, it provides integrated GPS, sprinkler locations, cup placement, ball speed, slope and boundary of the green or any zone. You can add notes and pictures in the app so all relative information is kept together.
Analyzing Data is Easy
As you take a sample, the analysis is performed right there on the spot! There is no need to send in a sample or wait for results; instead, you can read the results immediately. Once all the samples are uploaded to the cloud, you can access even more information.
The analysis provides accurate irrigation, nutritional and uniformity assessments, so you can manage your turf with a complete understanding of conditions in real-time. POGO provides complete information on turf and soil conditions, water and fertilizer management optimization and causes of stress.
Mapping is Easy
The visual insight given by POGO saves you from having to dig through charts and numbers. POGO maps sprinkler patterns, it presents uniformity assessments and assesses area measurements precisely. You will no longer have any guesswork or estimations but will have accurate numbers to work with.
Making the Most of Your Time is Easy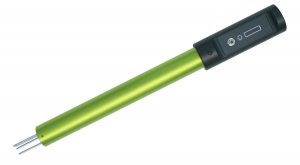 To sum it up: All golf courses experience issues with their turf at some point. Your troubles could be due to moisture, nutrients, stress, or a combination of moisture, salinity, and temperature. POGO can help identify these issues. POGO focuses on turf health and conditioning, root growth and soil conditions, irrigation distribution and performance. Minimize your course's water and fertilizer intake with the accuracy and efficiency of POGO.
You can order your POGO Turf Pro now through our e-Store (click and login). You can also contact your local Wolf Creek Company Golf Representative if you wish further details or materials.