Golf course management requires developing the highest quality turf possible within given environmental and physical limitations. Wolf Creek Golf strives to provide courses with the appropriate tools to maintain a course that meets the satisfaction of the superintendent, members, guests, and club officials alike. Soil testing is an important aspect of managing turf.
The POGO Turf Pro, born of over 10 years of testing and development, is a useful portable soil testing device for turf managers. POGO is a Wi-Fi enabled turf and soil insight tool that works in conjunction with smartphones.
POGO enables golf professionals to obtain insight into their course conditions using the single all-in-one system. Knowledge is power, the information this device will give you will allowing better decisions to be made efficiently and cost effectively for presenting the finest conditions possible.
Data given by POGO is easily analysed, allowing you to create and adjust any irrigation and fertilization plan levels you need to. The effectiveness of this tool reduces the chances for turf decline and irrigation waste. POGO gives you these abilities by allowing you to create GPS mapping, IPM logging, pin sheets, customized reports and much more. We know you're busy, that is why the POGO is such a great tool. Not only does it pull the capabilities of multiple tools into one, it is also requires no training on top of making you more efficient.
Logging Data is Easy
So, once you use POGO, the captured data is stored in the app. To use the integrated GPS, log sprinkler locations, cup placement, ball speed, slope and boundary of the green or any zone, simply just take a sample. Save paper by recording notes and taking pictures through the app. You can access at any time. Honestly, it is just more efficient and easier than lugging around multiple pieces of equipment and keeping track of papers.
Analyzing Data is Easy
You don't have to wait for or figure out your results. An instant analysis is performed while you are taking the samples. You can read over results instantly and once all data is uploaded to the cloud, access more thorough data. Manage your turf with a complete understanding of conditions in real-time with clear and accurate irrigation, nutritional and uniformity assessments. provide complete understanding of turf and soil conditions, water and fertilizer management optimization and causes of stress.
Mapping is Easy
The visual insight given by POGO saves you from having to dig through charts and numbers. POGO makes mapping easy by; mapping sprinkler patterns and uniformity assessments and assessing area measurements precisely. NO more guessing or estimating. Get accurate numbers, easier. The precision allows you to make better decisions for your course in less time.
Making the Most of Your Time is Easy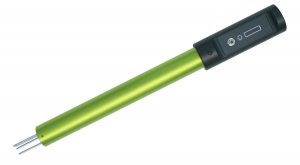 Make the most out of your turf care. POGO focuses on turf health and conditioning, root growth and soil conditions, irrigation distribution and performance. Minimize your course's water and fertilizer intake with the accuracy and efficiency of POGO. Better managing water use means improvement in playing conditions and stress tolerance of your turf. Having a better understanding of your turf will allow you to be more effective in your other practivces such as aerification practices.
It's normal to have issues with your turf here and there. First step is understanding what is wrong. Your troubles could be due to moisture, nutrients, stress, or the combined impact of moisture, salinity and temperature. POGO can help identify these issues. For questions about or interest in the POGO PRO contact your local Wolf Creek Company Golf Representative.