Water features can transform an outdoor space. Features create a tranquil environment with the sound of flowing water, eye appeal and reflective qualities. In addition, a wide variety of fish, foliage and flowers can be added to enhance a water garden. The bubbling of a fountain, flow of water down stream, and the gracefully shaped features are examples of the endless possibilities for water features.
Great water features are designed to fit in a landscape organically. Features should accent the natural shape and environment of the space. Great water features appear to have always been there, not constructed into the space.
Majestic fountains, waterfalls, water gardens, small ponds, and flowing creeks, are just the beginning of the possibilities for water features.
The Appeals
Attracts Wildlife
Water and certain plants are more likely to attract wildlife. Not only are you providing a more natural environment, but you're also adding to the appeal of your space. Birds enjoying a fountain or butterfly's flocking to flowers and bushes makes a space more enjoyable.
Sounds
The sound of rushing water has always been a characteristic of tranquility. But, the sound of a water feature can also drown out unwanted noises as well. The flow of a water feature can create a space less likely to be bogged down with the sound of cars and neighbors.
The Visual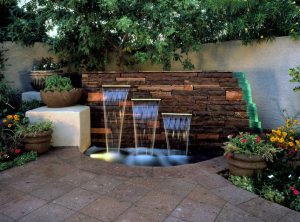 The flow of water through a water feature creates a beautiful visual. Such as glimmer from light hitting the water falling off a free standing fountain. This makes water features are enjoyable to watch and admire for home owners. Water features are decorating pieces too. Some more extravagant pieces can become art work and the focal point of a space.
The Feels
Water features can create a relaxing, tranquil, outdoor feel to any space. Identifying the goal for the space will direct the design. Determining characteristics such as rustic, tranquil or functional for a space is essential in the designing process.
There are also many benefits to water features. Water features relieve stress, inducing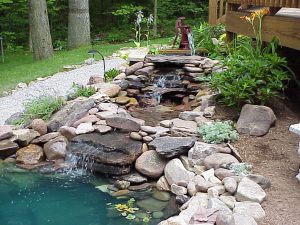 relaxation. After a long day, sitting in your outdoor living space to relax is a great feeling. Many fountains offer adjustable pumps so you can adjust the flow to your liking, creating a customized relaxing environment.
Fountains can also act as natural humidifiers. Fountains add moisture to a dry area. Indoor fountains humidify the air while you enjoy the soothing sound of running water. Due to the constant moving of water, fountain will not mold and mildew like humidifiers may. A water fountain can also help other plants by adding extra humidity that may otherwise be lost.
Pets also love running water. A fountain can be a source of water to your pet. As long as harmful chemicals are not being used in the water features, drinking the water is completely safe.
Make it Yours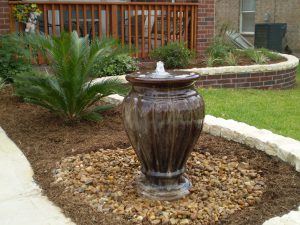 Water, stone, and native plants complete a home water feature. To make a water feature appear natural, the planning of water, stone and plants is necessary. The type of water feature such as free floating fountain, stream or water fall, will have to be determined. The type of feature may be selected based off desire for the space and the ability to functional fit the feature. The color and type of stone should be selected to again, appear natural. Using stone colors that work well with the soil, home and other special features will create a better space. Lastly, using native plants will create a water feature that is more natural, functional and appealing. Using native plants that work well in the environment is essential to a prospering water feature. Choosing plants with colors that also mirror the home, style and desire for the space is important.
Water features enhance any outdoor living space. There are endless amounts of designs that a landscaping designer could create. Contact your local Wolf Creek Company location for more details on water features and water feature products.