Installing lighting can be easy! With a little guidance, beginning to offer this service to your customers will open new doors.
Starting with the Basics
To begin, there are a few quick musts to remember.
Transformers must be plugged into a GFCI circut in an upright position
Mount the transformer no less than 12″ from the ground
The transformer is prone to get hot, for safety mount to wood and do not use extension cords.
Understand the transformer capacity with the home's breaker capacity.
Connecting the Transformer
The transformer should be mounted using the guidelines listed above. There are two places to connect the run/wire, the common terminal and the voltage terminal. When ready to wire, there are a few sample cable runs you can use, refer to the above image. Cable runs from the transformers should be no smaller than 12/2 to match the breaker capacity. However, the voltage terminals can hold more than one run or wire in each connection spot. Also, the NEC 80% Rule needs to be followed to prevent overloading transformers. As a guide use the below graph.

Simply insert the wire and flatten the screw to prevent arcing. Make sure no copper is visible once tightened into place. Next, perform the "tug test" on installed wires to make sure they aren't loose. Any taps not being used should now be closed. Now you're ready to install the lighting!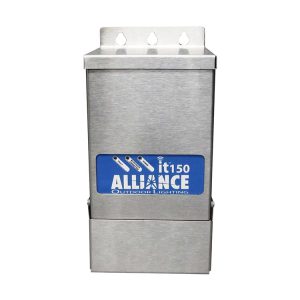 For more information contact one of our experienced lighting specialists. Wolf Creek also offer winter classes and year-a-round online training. See this year's winter lighting schedule below:
Outdoor Lighting Installation:
6700 Huntley Road Columbus, OH on Jan 25
11956 Tramway Drive Cincinnati, OH on Jan 31
839 Contract Street Lexington, KY on Feb 1
13030 Middletown Industrial Blvd Louisville, KY on Feb 15
Outdoor Lighting Design:
1800 S Alex Road Dayton, OH on Jan 30
115D S Reynolds Road Toledo, OH on Feb 6
6700 Huntley Road Columbus, OH on Feb 6
26245B Broadway Ave Cleveland, OH on Feb 8
11A Robinson Manor Blvd Pittsburgh, PA on Feb 13
Click here to learn more.