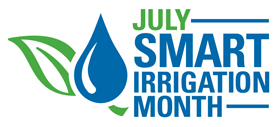 July is smart Irrigation Month. Homeowners are becoming more aware of the benefits of water efficiency. It not only helps their pockets but the environment as well. The Green Industry is feeling its fair share of restrictions and pressure from the higher-ups.
Rain Bird has recognized the need of the industry and has incorporated their WaterSense technology into their controllers. Rain Bird was the first full-line irrigation manufacturer with a controller to earn the EPA's WaterSense label. This means is at least 20 percent more efficient than non-labeled products.
All models of the Rain Bird ESP-SMTe controller are EPA WaterSense approved. But what does this really mean? The U.S. Environmental Protection Agency developed a WaterSense program to make it easier for consumers to:
Recognize water saving products by labeling products that meet water conservation requirements.
Gain access to new water saving innovations.
Understand the value of water efficiency.
Reduce strain on water resources.
How the ESP-SMTe Saves Water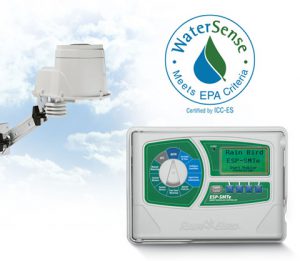 The ESP-SMTe collects site rainfall amounts and uses this information to re-calculate run times for each zone. This allows for a more accurate and conservative irrigation run. The internal memory of the ESP-SMTe also contains over 8 years of historical weather data.
This data, along with the onsite rainfall and temperature information is used to adjust the watering schedule on a daily basis. The ESP-SMTe Cycle and Soak™ feature allows the controller to adjust zone run times based on soil conditions and slope to reduce/eliminate water run-off. In the end the WaterSense is saving homeowners time and the environment water.
"We are honored to have both of our controllers evaluated and deemed worthy of carrying the WaterSense Label," said Rain Bird's Director of Corporate Marketing, Dave Johnson. "Much like the Energy Star program has done for reducing residential energy use, the WaterSense labeling program is a major step toward empowering consumers with the ability to easily identify and choose water-efficient irrigation products that use less water while performing as well as or better than conventional models in their landscapes."
Homeowners Care, Use it as a Selling Point
Water conservation has become an essential practice in all regions of the country, whether you have an abundant amount of water or not. In addition to saving money on utility bills, water conservation helps prevent water pollution in nearby lakes and rivers. Conserving water can also extend the life of your septic system by reducing soil saturation. Overloading municipal sewers can cause untreated sewage to flow into ponds, lakes, and rivers. The smaller the amount of water flowing through these systems, the lower the likelihood of pollution. So, next time you question whether or not a homeowner cares about water conservation think again!