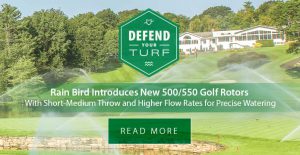 Rain Bird has released a new line of rotors designed to help golf course staff better water smaller areas of their course, such as tee boxes and compact greens.
The Rain Bird 500/550 Series feature a variety of Block, SAM/Hydraulic, and valve-in-head versions.
The 500 Series models offer a radius of 27.9-46.9 feet and a full-circle, 360-degree arc, while the 550 Series covers a radius 27.9-47.2 feet, and have an arc that can be adjusted from 30 to 345 degrees.
The rotors can be installed into existing Rain Bird golf rotor cases that were manufactured as far back as 1992. This means clubs may not need to dig up golf rotor cases already installed to introduce the newest series to their course.
The 500/550 series rotors are also compatible with Rain Bird's Integrated Control System. This provides central control and allows users to directly move or instruct every rotor and valve they have.
"Being able to add new golf rotors without having to change any of the control hardware is a real boon," said Jimmy Sandison, Rain Bird golf area sales manager for the UK, Ireland and Iceland. "And having the ability to water smaller areas more efficiently is becoming more and more important. Course managers are increasingly under pressure to use water more wisely, as well as delivering aesthetically pleasing and healthy playing surfaces. These golf rotors allow for precise and more efficient irrigation of smaller course areas. As nozzles offer higher flow rates and emit larger water droplets that cut through wind – features not commonly found in rotors with a short throw radius – water can be applied exactly where it's needed in a shorter amount of time."
Click here to read the original article.