Not all homes have a big yard. But, everyone wants a back yard they can enjoy. Homeowners with small backyards can feel overwhelmed with the space. Yes it's small, but it is also difficult to come up with a design that is functional is a smaller space. Here are some tips for making the most out of a small yard.
1. Declutter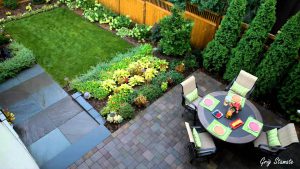 Don't let it go. Just because a lawn is small, doesn't mean it doesn't need to be kept up. Create space by decluttering. Clear out any storage, lawn ornaments and unnecessary landscaping aspects that aren't functional and are just causing congestion. Evaluate the condition of the grass and further steps to take for maintenance.
Also, by trimming back the trees and shrubs, a yard can appear much bigger. Tree are recommended to be trimmed annually. Regularly pull weeds to keep the landscaping looking sharp and decluttered. To keep a well hydrated space, consider installing an irrigation system.
2. Determine Backyard Layout
Landscaping your yard not only means a better space for you, but also increases your home's value. Have a vision for your backyard. To begin, just make a list of attributes you would like. For instance: security and tranquility. Then figure out what that means. A desire for security means you probably want a fence or tall trees to enclose your yard. Shrubs and bushes add privacy and block noise.
A small backyard does not mean you don't have to compromise security. Adding or upgrading a fence can still be beneficial to creating the outdoor oasis you desire. Tranquility could mean a small water feature or plants that are known for soothing, like moss.
Using diagonal lines such as for paths, will elongate a yard. Water features help customize a yard and are offered in small sizes. incorporate native plants in your landscaping plans. Planting them in your yard has many benefits, including using less pesticides and water.
With the right style, plant and material choices, you can make your yard seem bigger and comfortable. Keep in mind, before beginning any landscaping project, call 811. This will prevent any damage to utility lines around your house.
3. Make the Most Out of the Space
Make the most out of the space you have. Your yard may not be big enough to grow a garden, but that shouldn't prevent you from growing plants and flowers.
Flower pots and containers add space and more options for growing. You can plant vertical walls and use hanging pots to create even more space.
In addition,  keep in mind that the container is part of the design. Each piece of your yard should flow and work well with each other.
Conclusion
Just because you have a small backyard doesn't mean you shouldn't be enjoying it. See which ideas you can incorporate into your backyard plans. Even if it's cleaning up and planting a few flowers, you can easily make your yard a place you can't wait to relax in.