Sonarray Sound Systems offer perfect quality and coverage, featuring an 8" dual voice coil subwoofer that delivers incredibly smooth sounds. The Sonarray SR1 satellite speakers are constructed with a natural earth tone color-molded composite that won't corrode over time. Once installed they are easily camouflaged. It's easy to connect and enjoy both at your clients house and yours! 
An Easy Up-sell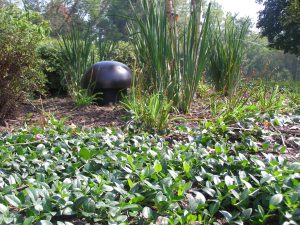 Business owners typically are looking for ways to expand their business ventures. Although many may be limited by their knowledge when reaching into a new division, training is readily available through Wolf Creek. However many who have installed irrigation or lighting will find this project not out of their comfort zone.
If we're going to carry a product I like to have first hand experience with it. Well, I (Scott Knowles, President of Wolf Creek Co.) finally installed a Sonance SONARRAY Sound System at my home.
Installing the speakers is just like installing light fixtures. You just have to remember to alternate the left and right channel wires, easy enough. The sub woofer is partially buried so it requires a little digging, but no big deal.
Deciding where to put the speakers takes a little thought; at least for my house, which doesn't have a typical back patio area. I think most development type homes would be very easy to layout. The speakers blend into the landscape since they look like common accent light fixtures. The sub woofer is about 18 inches in diameter and looks like a big black mushroom.
Wiring Sound is as Simple as Wiring Lighting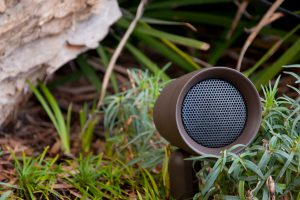 I used the Blazing BLS-10 wire connectors, they're my favorite for lighting, they worked well. The direct burial sound system wire is very nice to work with; flexible, very easy to strip, high quality wire.  Although, I'd suggest using a cable stripper tool to open the wire jacket. The cable is a 4 wire, but each speaker just uses two. You alternate between the wire pairs for the right and left sound channels.
All the outside work will be very familiar to irrigation and lighting installers. But the inside work is a little different. The cable must somehow get from outside the house, to wherever the sound system or music source is located within the house. Not hard for my system, but I can see some homes posing a problem.
Because many higher end homes already have sound systems and a certain room for all the techy hardware, it might be easier to sub contract the inside labor to the companies who do such work. Most of them don't want to do the outside labor so there may be a partnering potential for you.  You hire them to do your inside work and they hire you to do their outside work.
Hook-up is Simple Too
Hook-up is simple, it's just two wire (positive and negative) for the left and right channels. Most sound systems are clearly marked and easy to attach to. I used the Sonnance pre-amp. The pre-amp simply drives the speakers, it does not provide music. Connection was easy. While there are settings that can be changed, the out of the box settings are just fine for me (the true audiophiles may disagree!).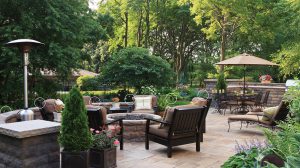 A source for music is then attached to the pre-amp. If you've hooked up old fashioned stereos then all this will be very familiar.  Any music source can be hooked up, such as CD players, phones, stereos, etc. I used an internet connected device that has a cell app to control the music. Because it's internet based any online music source is available, I'm using my Pandora account. You can also cast music from a phone, which means people can store their favorite music and control it all from their phone.
Because most sound system contractors don't want to do the outside work there is an opportunity for you. Using an inside installer as a sub means you don't have to learn all that. But the revenue bump for your installation jobs will make a nice net profit booster. Add on up-sells always do! The sound system guy may turn you on to new accounts.
Installation is an easy addition when you're installing irrigation, lighting, or planting areas. The 8 speaker package will add about 60 to 90 minutes to wire up. Placing the wire really doesn't add much time if you have other work going on. The inside stuff takes a little more time depending on where the equipment will be located and how hard it is to get the wire inside and to the equipment.
Bottom line: sound systems are an easy add on profit enhancer. Check it out.
AUTHOR: President Scott Knowles