Declan Sullivan is a 24 year veteran of the Wolf Pack. While studying at the Clarion University in Pennsylvania, he spent his summers working for an irrigation company on an install crew. Once graduated, he realized his passion for irrigation and started to explore a possible career in the Green Industry. Declan began his successful career as the WCC Pittsburgh Warehouse Manager then a year later moved into the Territory Sales Manager Position.
"In the 23 years I've known Declan, I've never met anyone more knowledgeable about the local industry or who cares more about the well-being of his customers. His honesty and integrity are second to none and he's become known as the most trustworthy source of information and technical assistance in the area."

-Steve Lukasik, WC3 Design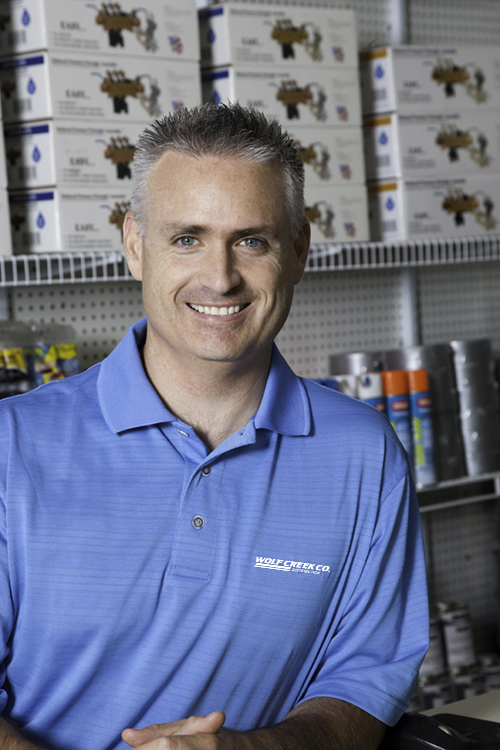 Declan enjoys the diversity of work his career provides him.
"There are a lot of unique projects that we have worked on and I like the challenges that each project provides. It's interesting to see the projects from the early design stage to the finished product and all the behind the scenes stuff in between. I get to see all types of unique and upscale residential properties and it's always interesting to hear the stories that come with each one. I'm never bored," he exclaimed.
Part of that diversity is also the wide range of products Wolf Creek offers. We are always trying to bring our customers products that can help them grow their business and upsell to their customers. The newer favorites are outdoor living products. Declan is most excited to show his customers the Sonarray Outdoor Speakers and Easy Turf Synthetic Turf.
In his position at Wolf Creek, Declan has the opportunity to work with and develop relationships with many customers. It is not uncommon to hear that companies are looking for more staff. It is a problem that is being talked about and written about across the country. The shortage of hands-on workers is threatening the growth and prosperity of many Green Industry businesses.
The biggest struggle Declan sees is owners not knowing the growth potential for their company. They struggle so much with finding employees that they can't achieve their goals. He explains, "The majority of the contractors that we deal with could easily grow if they had the right or enough employees. They fear selling more work because they don't know if they will have enough employees to complete the work."
So, what can we do about this problem? There are many creative ways to attempt to find workers, but the problem needs to be resolved at its core. Awareness needs to be brought to students about the growth and career opportunities within the Green Industry. However, the fight also can be won when Green Industry workers collaborate. When seasoned and unseasoned business owners alike meet, mountains are moved. It is only together that we can build stronger businesses and therefore a stronger industry.
To help build stronger businesses, this year our Pittsburgh branch held their first Season Kick-Off Event.
Joe Twardzik, WCC Director of Landscape Systems explains, "The results of his (Declan's) efforts and those of Jeff Crossan and Jon Sarno of our Pittsburgh staff was on display at their recent event at the Pittsburgh Botanical Garden on February 22. He gathered contractors, vendors and sprinkled in some business efficiency leaders to take this event to another level" He continues, "According to Declan 'Pittsburgh lacks a major Green Industry organization and because of that, they lack a premier Green Industry event. We are working on creating that event and look forward to building on this years event and making it bigger and better next year, and keep it growing from there.'"
Our typical open houses weren't up to par with what the industry needs, so we switched it up to better serve our customers. Declan sparked the idea of holding this "out of house" event to create something that our customers could look forward to before the season starts. "I wanted it to be something they want to come to and want to invite others in the industry to come to," he explained. This year's event featured short presentations for industry leaders and vendors. There was food, giveaways and served as a place for owners and leadership to come and network. "I wanted to make sure that we offered some value to attendees by showing them products and solutions that can help make them more profitable and to make their lives easier," he continued.
We want to thank all who attended, it was a great way to start the season and are looking forward to seeing more new faces next year. It is because of Declan and the Pittsburgh team's hard work that this event was a success.
The Pittsburgh location has the longest standing team within the company. Their strength and stability lie within their goals for the branch. Although differing opinions do arise, growing their market, providing great service, having customers choose and recommend us is the goal for the whole team. "It really all comes together when you are all on the same page and I believe our team is which makes us strong," he continues, "Other local competitors always have a lot of personnel, locations and name changes which can be unsettling."
"The thing about Declan is how much he cares that things are done right. He doesn't like cutting corners, has a disgust for shady activity, and really cares about his customers and the people he works with. He's one of those guys you can always count on."

-Scott Knowles, President of Wolf Creek Company
Thank you, Declan, for being an important and valued part of the Wolf Creek Company Pack!