How about an 'edible golf course'? Or a miniature golf course in a cathedral? These are some unusual trends and some we could call a tad absurd. However, there are some noteworthy lessons we can learn if we have a closer look at these trends.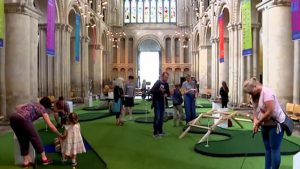 Recent news from Great Britain caught our attention as it is interesting and …yes, a tad bizarre: "Golf Course in Cathedral". A miniature golf course in a Cathedral is something Monty Python could have mocked, right? It is interesting to say the least that golf is cleverly being used to draw people into the cathedral so that they may learn about bridges and the church: 'Rev Rachel Phillips, Canon for mission and growth at Rochester Cathedral, said: "We hope that, while playing adventure golf, visitors will reflect on the bridges that need to be built in their own lives and in our world today"'. There is of course much talk over tea or a pint about whether this is proper or a desperate ploy. As we look at some other unusual golf courses, we may discover that there may be something else at play; the Reverend may have a point about building bridges…
Returning to Balance
The fact that many golf courses closed in 2017 and only a few new courses opened had an impact not only on the golf industry but also on the communities they were a part of. Property values dropped, homeowners associations were left trying to figure out how to restructure their Bylaws, communities lost valuable natural appeal, and in some cases, even vandalism happened. (Wall Street Journal)
However, there is another side to this story.  WBTNews reports that in Horry County 21 golf courses closed, with 93 courses remaining. Many of the courses sold out to developers because at the same time the population rose more than 61 percent. Bill Golden, CEO of Golf Tourism concludes that the golf industry as a whole stayed steady: "… many of these courses were built for real estate purposes in the first place, the game couldn't sustain the number of golf courses we had." Housing needs outweighed the profit that could be made from a course. However, it is not all gloom and doom; Golden doesn't believe that fewer courses mean fewer golfers: "… those rounds aren't going to evaporate… They'll go somewhere else, which will make the overall industry healthier."
This sentiment is confirmed by the 2018 Golf Industry Report: "Golf's participation base remains solid, with an estimated 23.8 million people who played golf on a course in 2017 — the same as a year earlier… The contraction represents a continued correction in the industry, with supply and demand returning to balance… a natural economic response." The National Golf Foundation: "The biggest challenge for the golf industry remains two-fold: getting those who express an interest in playing golf to actually give it a try and then converting more beginners into committed participants."
"We Are Getting Rid of the Gate"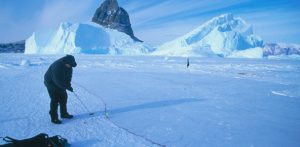 Rochester Cathedral is not alone. There are some interesting golf courses out there in the wild, from the famed Indianapolis Motor Speedway to Merapi Golf Course in Indonesia at the foot of a volcano – for those who like to live dangerously. This Foursum article lists another example: Uummannaq in Greenland is actually the home of the World Ice Golf Championships. Yes, everything is frozen. You may already become interested in adding these golf courses to your bucket list, which further proves the point: All of these courses provide something unique which gets our attention.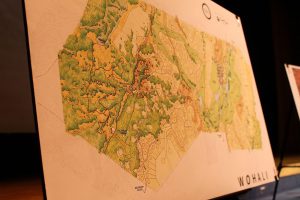 A second home course in Coalville, Colorado is just starting development, but aims to open the doors to the public for their golf course and spa: "For starters, we're getting rid of the gate. All of the amenities will be publicly accessible." As the project works its way through the planning process, the developers, Wohali Partners, LLC, say they're responding to public feedback and trying to act as good neighbors. Planned amenities include two golf courses, a lodge, a spa, a splash pad, a chapel and some businesses like cafes or pubs around the village core. The public will have access to all of it, along with the seven miles of trails the developer has committed to installing during the project's first phase.
Fairway-to-Table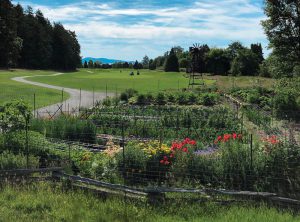 Lastly, one of our favorite trends, because it involves food! Golf Course Magazine: "Approximately 20 years ago, an initiative began at Cordova Bay Golf Course in Victoria, British Columbia, to turn a small, unused portion of land beside our 15th tee box into a pumpkin patch. This was for general interest and beautification, and for the fall harvest to be used in autumn displays. Little did we know this would result in a major evolution and transformation of our horticulture activities and garden themes for decades to come."  In those early years, the produce was so abundant that the club's chef started using them in his fall and winter dinner entrees and house-made soups. The results are far-reaching: beehives, biodiversity, flower gardens, and a very supportive community: "Seasonal displays, fresh greenery, and cut-flower arrangements help cultivate a unique experience at our facility by using the natural resources of the golf course. Creative initiatives like these contribute to a good cause and allow people to take a piece of the Cordova Bay experience home with them." Other food gardens have popped up at golf courses, such as at Denver First Tee, organic gardens at Medinah Country Club (IL), Ben Brown's GC and an organic garden at Tampa's TopGolf facility.
Building Bridges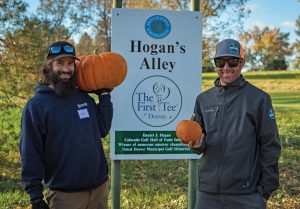 "To get those who express an interest in playing golf to actually giving it a try" is a call for innovation. It can result in upgrading the course or facilities, offering a fresh new idea, or attracting new players. Innovative marketing means having a good look at your existing clientele, your goals and let us not forget: your community. What new and interesting value can you offer to your community? What bridges can you build? There are many ways to attract people to golf, and what may seem gimmicky at first may be the right thing: a miniature course in a cathedral, an ice course in Greenland, a fairway-to-table in Cordova Bay, or a volcano course in Indonesia. A golf course will have lasting success by being connected to its community and culture around them and provide value that matches.