As you know, Wolf Creek Company Golf trusts Rain Bird to keep your courses updated and operating with efficiency. Among the products that superintendents choose to use for their courses is the Vertical Turbine Pump Station. The station provides up to 1,500 GPM (340 m³/h) at 20 psi (8.3 bar) for 60Hz/460V–575V applications and provides up to 273 m³/h at 8.3 bar for 50Hz/380V–415V applications.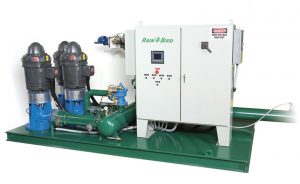 The EV Twin Vertical Turbine Pump Stations are intended for standard wet‑well applications with a 48″ (1.2 m) to 60″ (1.5 m) diameter and a depth of either 12′ (3.7 m) or 15′ (4.6 m).The system can be use on golf courses, commercial and municipal sites utilizing a wet‑well and requiring the redundancy of a twin vertical turbine system to delver up to 1,500 GPM at 120 psi for 60Hz applications and up to 273 m³ at 8.3 bar for 50 Hz applications. The following are some attributed of the pump stations that Rain Bird lists on your website here.
Easy Operator Training: Monochrome touch screen operator interface.
Easy Installation and Start-Up: All stations are wet‑tested prior to shipment.
No-Hassles: Purchase all irrigation system components from one supplier.
Air to Liquid Control Panel Heat Exchanger for maximum VFD life.
NEMA 4 Electrical Panel for maximum protection of electrical components.
RU Vertical Turbine Pump Motors.
Electrical Power Surge Protection.
Power-loss auto-restart ensures seamless operation on loss/regain of electrical power.
Modern electrical design employs industrial grade circuit breaker motor protection instead of outdated and expensive-to-replace fuses.
Complete skid and piping garnet‑blasted and powder‑coated for maximum corrosion resistance.
Pressure relief valve with butterfly isolation valve protects the station from over‑pressurization while ensuring serviceability.
Stainless steel pressure transducer for maximum durability.
Mechanical actuated air relief system to ensure smooth system operation.
Individual pump silent check valves and isolation valves.
Integral wet‑well service hatch.
Lake level floats prevent inadvertent dry‑running of vertical turbine pumps.
3HP (2.2kW) Stainless Steel Pressure Maintenance Pump and Motor.
Please contact your local Wolf Creek Golf Representative with any questions on the Rain Bird pump or other products. To read more about this product click here.