Want to take your water feature from beautiful (daytime) to stunning?  Add night lighting! With both submersible and landscape fixtures available it's easier than ever to accomplish.  Tuck a small fixture behind a waterfall and the feature takes on a subtle glow; nestle a 360o pond light in the middle of the main pool and you'll enjoy watching fish swim in and out of the light beam. If you want to add more "sparkle" place a submersible accent fixture in the middle of the most turbulent water because the bubbles create a magical lighting effect. Just remember to include a ledge or large recess that remains dark so the fish have both a place to rest and get away from any night-time predators.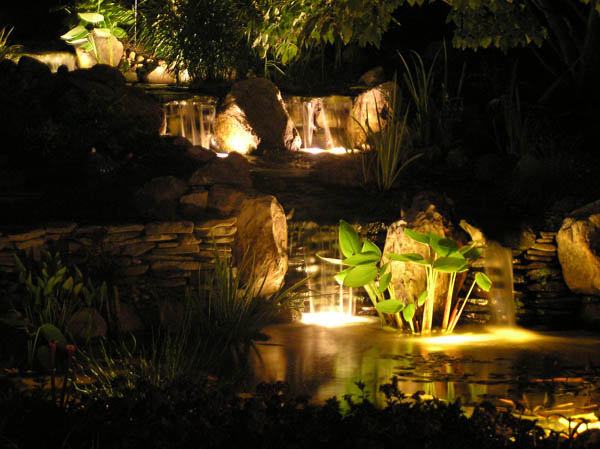 As the sun begins to set, pond and landscape lighting create a captivating mood in the landscape. Think of that vacation you experienced at the beach, and the serenity you felt watching the moon cast a glowing trail over the ocean's surface. You can recreate that in a micro-setting with the right water feature and appropriate lighting.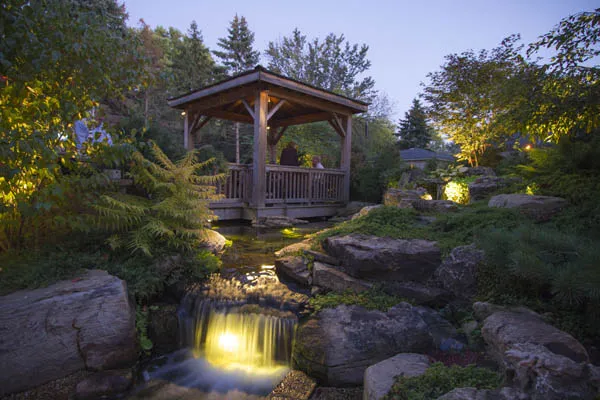 When you add waterfall or underwater lighting to your water feature, you extend your viewing pleasure well into the evening. You can install lighting at the time a water feature is being built, or add it after the fact; the key is to hide your wire runs and nestle fixtures (both in and surrounding the feature) to accomplish the effect you want.  Some lighting should be subtle, some are designed to be more pronounced…the designer and installer need to keep that in mind as the stones are being placed and the water feature falls, pools, plantings, etc. are finalized.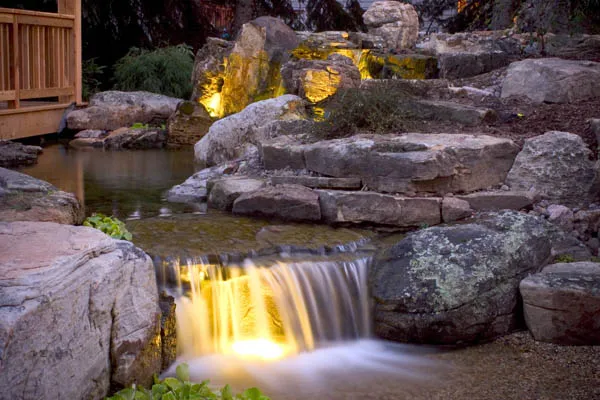 On nights with a lot of moonlight, the effect on water features is amazing.  With the addition of LED lighting in and around a water feature it adds a level of beauty and warmth that just draws you in.  Another added benefit to LED is that there is no ultra violet or infrared in the beam.  A number of insects are attracted to or navigate by UV and IR, so since LED doesn't have it, it doesn't attract these insects (including most mosquitos!).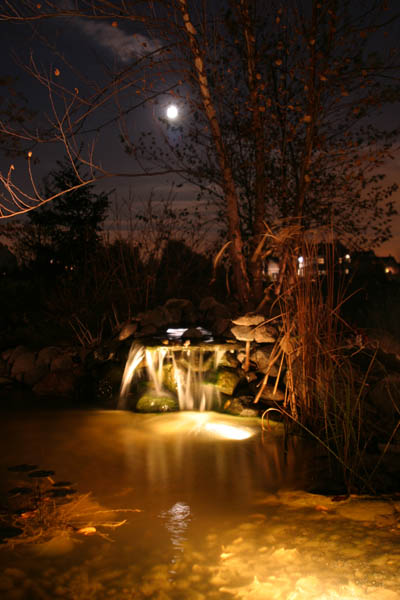 Old style pond lighting used incandescent and halogen lamps, and these were not only short-lived (around 5,000 to 10,000 hours) they also introduced a lot of heat to the water.  This heat created the ideal environment for algae to grow and thrive and increased maintenance needs.  LED doesn't get hot so it limits the algae impact.  LEDs use one-fourth the wattage of incandescent, don't produce a lot of heat and are extremely long-lived (40,000 – 50,000 hours).  This means a homeowner pays 75% less on their electric bill to run the lights, has less maintenance in keeping their pond looking great, and has less maintenance cost for the lighting system because it doesn't need lamps replaced as frequently.  Occasional cleaning and re-positioning of fixtures may be needed as lenses get dirty or plants grow, etc., but that's minor routine maintenance to keep your water feature and lighting system performing nightly.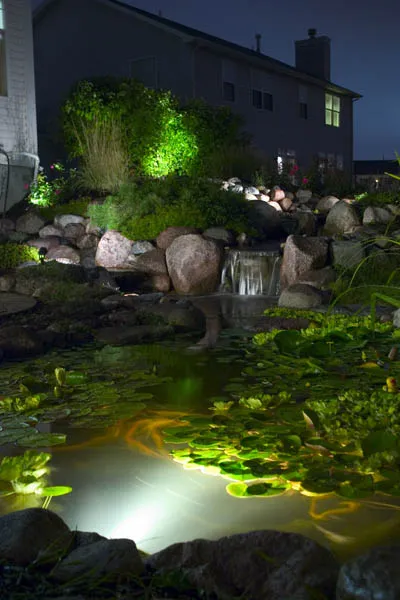 A simplistic "plug and play" system may be sufficient for smaller water features, and lighting kits are available that are preassembled and pre-wired, making installation a snap. Simply plug in the transformer, and your lights are ready to go. Most systems have either a timer that can be programmed for run time, or a photocell can be incorporated for dusk to dawn operation.
Water feature design is only limited by your imagination and space.  Place a single submersible fixture in a container or fountain bowl or bring in a backhoe and create a large water feature.  The principles are the same…create an interesting scene, and select the right fixtures to illuminate it. Everything can be scaled to accomplish the look and ambiance that you want.
Be creative with your lighting options and you'll find you enjoy your water feature during the evening hours just as much as you appreciate it during the daytime…maybe more!
For questions about lighting or water features contact one of our Lighting Specialists or your local Wolf Creek Company location.
Photos and some content provided by Aquascape.