There are many factors to consider when choosing to install synthetic turf. Typically, maintenance and cost are among the top deciding elements. But, would homeowners and businesses continue to invest in synthetic turf if they knew irrigation was still recommended? It seems crazy to water fake grass, but there is a reason behind the madness.
An Important Maintenance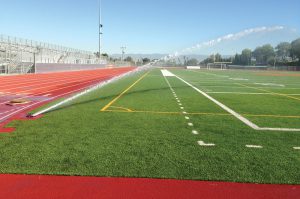 Although irrigation systems for synthetic fields are still considered a luxury, it is a luxury that needs to be considered. Irrigating helps with cooling, cleaning, and material life span.
Real grass stays between 50-75 degrees no matter the temperature outside. But, synthetic grass does not have that same cooling capability. Watering turf is important for temporary cooling. Irrigation helps cool the turf for about 45 minutes after watering. If the turf is not cooled it can reach up to 180 degrees on a hot summer day. These temperatures can melt most athletic shoes and will burn skin.
The safety of players on synthetic fields should be the main concern when deliberating an irrigation system. Player fatigue and sports injury due to heat exhaustion, particularly with hot field temperatures is a concern when fields have no irrigation. The risk of injuries outweighs the cost of adding an irrigation element.
In addition, watering turf is important for cleaning. Irrigating will flush contaminants such as dust, dirt, and bodily fluids through the system. Good synthetic fields quickly drain down through granulated rubber into a drainage system that carries it out to purification facilities.
Irrigation can also increase the material life of some synthetic brands. This reduces the potential of the turf becoming prematurely brittle or stiff.
How to Water
A facility's budget will come into play when creating a watering plan. Some tactics for water are as follows:
Quick couplers around the perimeter of the field
Quick couplers with mechanical hose reels and impact sprinklers
Portable "rain-guns" that plug into quick connects along the perimeter of a field and require manual efforts to constantly move up and down the sidelines.
The Final Decision

The decision to add an irrigation system to a synthetic turf is based on desires, budgets,  maintenance, and use. Recent studies indicate that injury risk of playing on synthetic fields is no greater than on grass. Click here to view a description of the studies. Synthetic turf fields are generally warranted for eight years, but is based on the amount and type of maintenance and use it receives. Landscape applicant synthetic turf will last much longer than fields. There are many benefits and conveniences of synthetic turf but financial limitations can be a factor.