Wolf Creek has been selling Rain Bird irrigation equipment since 1979. That's nearly 40 years! And, Rain Bird has over 80 years of irrigation engineering. Their focus is solely on irrigation. Rain Bird is dedicated to advancing the abilities of irrigation products. Their products help those who manage a golf course do more with less.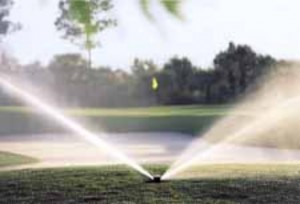 Over the years, Rain Bird has pioneered multiple new technologies. These technologies bring greater irrigation control and performance to your course. Rain Bird is still on the cutting edge. They introduce products others ridicule, then later have to emulate.
What are most productive results for your total lifespan investment? The most productive result is more years of service for less money. Rain Bird offers:
Minimal obsolescence; reducing reinvestment to stay current
Forward upgrade path; designed to be upgraded, not replaced
Long lifespan; time tested to "last forever"
Minimal failures (0.43% for rotors); reducing maintenance budget and failure hassles
Proven Performance
Rain Bird has proven better application & operational performance. Also, their products make it easier to attain higher Distribution Uniformity (DU). Rain Bird courses save water, electricity, and maintenance costs. All of this equates to cost savings for golf courses.
Easier to practice ET based scheduling
Rain Bird offers save water and match irrigation run-time to plant water requirements. Their reliable, long lifespan, reduces cost for repair parts and repair hassles. In addition, their advanced built-in central diagnostics tells you if something has failed and where. And, their easier day-to-day operations are known as the easiest central to learn and use.
Rain Bird gives courses the ability to reduce water usage. In addition, associated per hour costs for system run-time are reduced. Also, their higher DU rotors save water and reduce run-time. Better site specific scheduling matches run-time to plant water requirements.
Advanced Features
Cycle and Soak
Rain Bird's advanced Cycle and Soak eliminates run-off and puddling. Irrigation applies only what the soil can absorb, stops and allows absorption time. It then continues the application until the full amount is applied. Application and soak intervals calculated automatically per irrigation cycle. This stops run-off and puddling while allowing for deep percolation.
Advanced Central Control options are able to be upgraded to obtain useful features without reinstalling all of the equipment.
Closed case design with strong self-flushing
Every time a Rain Bird rotor activates and shuts down, a strong flushing action blows away dirt and debris. This protects riser stem and internals from debris. It also stops sprinklers from "sticking up." And, it allows rotors to be installed at grade. No lowering is needed after grow in.
Speed-Bump design
Top flange engineered to perform like a speed bump. It redirects impact from mowers and equipment. This stops sprinkler from being ripped from swing joint.
Bottom Line
With Rain Bird's decades of success, it's hard not to see why Wolf Creek Co. is proud to proved their equipment to golf courses. Their continuous upgrades to improve performance and durability, long life, great performance, ease of use, ease of service, and extremely low failure rate means superior return on investment. Put tomorrow's "normal" technology to work for you today.