Rain Bird Corporation is one of the leading irrigation manufacturers in the world. A privately held company founded in 1933, Rain Bird delivers top quality, industry leading products. We choose Rain Bird because their quality goes great with our personal, hands on customer service. Only the best hang out with the best.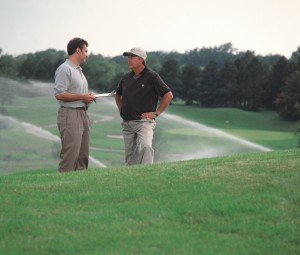 Rain Bird offers over 4,000 products and have been awarded over 450 patents. The first Rain Bird patent was granted in 1935 for the original horizontal action impact drive sprinkler (U.S. Patent #1,997,901), which revolutionized the food production industry and ushered in a new era in irrigation, worldwide. Complete confidence in Rain Bird quality, reliability and ease of use is demonstrated daily on golf courses around the world. Rain Bird was the first to install an irrigation system on a golf course and the first to develop central control.
Even after over 80 years, Rain Bird's continues to offer the type of innovations and reliability that make them first choice in golf course irrigation. Rain Bird has a unique integrated approach to golf course irrigation. Their leading control systems and pump stations provide a simple to operate and highly efficient means of water delivery and energy management, to ensure optimized water usage and power management with just a few clicks.Rain Bird offers a wide range of products to meet each course's and field's need. That's why Wolf Creek Company chooses Rain Bird.