ADS is one of Wolf Creek's trusted drainage brands. ADS was introduced in the United States in 1966 and has worked against cumbersome and ineffective materials being used for drainage and surface water control since then.
A History of Quality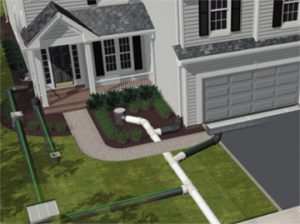 ADS offers lightweight construction for easy handling, high resistance to corrosion and abrasion, and strength and durability to withstand severe loading conditions. Over the years, ADS has made industry advances such as, in 1982, ADS announced the introduction of new 18″ and 24″ pipes. These larger-diameter products were described as "the most important advancement since ADS introduced corrugated plastic pipe in the United States" 15 years ago. These new sizes dramatically enhanced the Company's ability to compete against the construction materials traditionally used for larger diameter applications.
In a similar time frame, ADS introduced the SB2 pipe for use in gravel-less leach bed fields and product applications pertaining to geothermal and hazardous waste. In an effort to improve flow characteristics for storm sewer applications, ADS concentrated engineering resources on the development of a large diameter pipe with a smooth interior. This product was introduced in 1987 and was instantly successful. Named N-12 in reference to a hydraulic calculation, the smooth-interior pipe had all the performance characteristics of the standard corrugated pipe but with improved flow capacity. Following engineering evaluations and field testing, the N-12 pipe quickly proved to be superior to concrete, corrugated metal, and other drainage materials.
According to ADS, their total commitment to quality products and shattering customer expectations has made ADS the largest, most experienced manufacturer of corrugated polyethylene pipe products in the world. You can find the above text and their full bio on there site by clicking here.