Women in the Green Industry & Benefits of Biophilic Design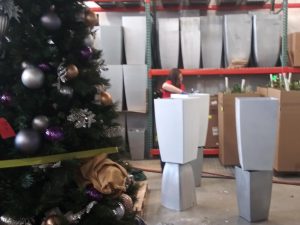 It was magical to step right off the highway into an understated warehouse and discover it is Santa's Workshop. Inside, towering glittering Christmas trees with overstated ornaments. Elves are busy making beautiful decorations and building, gluing, painting and making. Isles filled with "anything you can imagine to stick on a tree". The October meeting of the Women in the Green Industry was an immediate success in my book, and maybe also Santa's book.
There truly must be a Santa Claus, and maybe her name is Genevieve Mills. Genevieve Mills is the COO, In-House Counsel and Director of Oakland Interiorscapes & Streetscapes, as well as Special Projects Coordinator with Oakland Nurseries in Columbus Ohio. She holds a law degree from Ohio State and is a Certified Trainer in Green Plants for Green Buildings.
Together with the Ohio Nursery & Landscape Association (ONLA)*, Genevieve and her staff at Oakland Nurseries presented a lovely Women in the Green Industry networking event.  We were welcomed in the showroom that showcases samples that made the toughest landscaper woman anticipate the beauty of the holidays ahead.
Benefits of Biophilic Design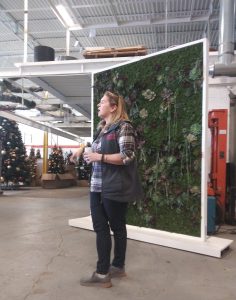 Genevieve presented a brief but passionate talk on Biophilic Design. "Humans need plants to survive. We've gone from living in nature to indoors. Science is now pointing at the resulting problems in mental and physical health. Biophilia explains that we experience better health with plants. In education, kids learn better with plants around; people on the autism spectrum focus better. It's also shown that plants improve retail because people want to stay around the beauty and life they provide. It is wonderful that we sell this beauty and healthy lifestyle. As nurseries, we can clearly benefit from the argument that buying plants is investing in the customer's wellbeing." She suggested handing out copies of infographics called "Plants Do That" created by the National Initiative for Consumer Horticulture.
Genevieve discussed the moss wall that functions as a backdrop for photography, and in this case, hid a forklift. Moss walls are made with a combination of glycerined moss and faux succulents. They purify the air and collect dust particles and don't need light or water. Oakland Nurseries has seen a recent increase in interest and purchases of these trendy walls.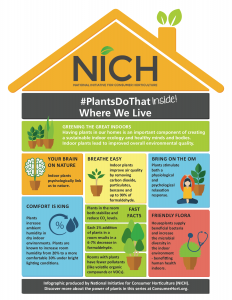 After the presentation, a lively conversation ensued about a talk given at GIE+Expo regarding women in the landscape industry and the topic of harassment. It addressed the need for a change in culture to fill more jobs for women and what it will take to re-educate the workforce. The group discussed how difficult it can be to deal with inappropriate language and how to set healthy boundaries. Some of the women shared about their experience in the construction, law or IT.  An agreement was reached that it is a good idea to practice verbalizing "This is not OK".
We left Santa's Workshop rich with appreciation and basking in glitter and shine.
*To find out about the next Women in the Green Industry event, please check the ONLA website or the Women in Green Industry Facebook Group.
>>>>> If you enjoyed this event, you may also be interested in attending the upcoming MGIX leadership event, which is coming up soon on December 11-12. <<<<<<<<