At Wolf Creek Company we expect nothing less than awesome out of our team members! The WCC team works hard every day to provide contractors with the best products and service possible. We believe relationships are important, that's why we aren't really sales people, we're problem solvers.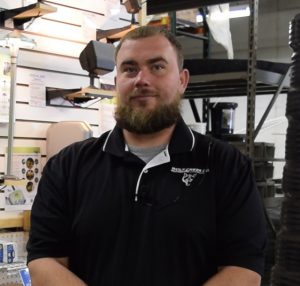 Meet Ricky Childress! Ricky previously worked as a forklift operator for Schultz Container Systems and framing houses with a friend until he found his home at Wolf Creek Toledo. Initially hired as a temporary driver, Ricky now plays a major role in the operations of the Toledo branch. With a transition in management for the location, Ricky has stepped up to become a valued asset to the company. Ricky has now been with the company for about two years, in which he has learned so much about the industry.
"To be honest I knew nothing about sprinkler systems before I got the job here at Wolf Creek.[…] Although if Joe Twardzik had faith in me, then I knew I could do it," Ricky explains about his new position on the team. 
Wolf Creek acts as a support system for our team members and our customers. We help each other to do a better job, so in return we can better assist our customers to excel in their business. Ricky has been taking more time to focus on the customers this season. Among the hustle and bustle of renovations and other busy season hurdles in Toledo, keeping operations smooth has been the team's focus. Ricky and Matt Haupricht have worked hard to make sure the chaos of the construction projects don't interrupt their customer's experience.
Wolf Creek offers a monthly cookout at each location to thank our customers! Occurring the last Friday of each month in Toledo, WCC hosts contractors in the area for a free lunch. We hope more contractors can join us in the coming months. What's the main question on the Toledo customers' mind's:"What's going on with the building, are you guys moving or are you remodeling?" Well, the answer: Someone bought the building and are doing renovations. We aren't moving, but are excited for the construction to be done. These renovations will mean a nicer, more updated facility for our team and customers to use. It was time for an upgrade!
Ricky owes some of his success to Matt Haupricht. Their constant communication through counter meetings, phone calls and text messages has helped them stay on the same page.
"We probably talk to each other 10-20 times a day and if we are really busy maybe more then 20 times a day," Ricky continues, "Matt has been a huge help in getting me where I am now. He has taught me a lot about our products and the industry. I'm honestly happy to have him on my team. Without him, there is no team up here."
When not running the store, Ricky is anxiously awaits the arrival of his first child that is due in January. We are so excited for you to experience that next big step in your life! Anyone have any baby name ideas? Good luck Ricky and thanks for all your hard work!